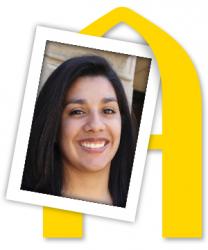 More Than I Imagined
Seniors reflect on accomplishments and look ahead
​Mary Brugge
Graduation year: 2015
Major: Biology-pre-physical therapy
Activities: Women's club soccer, sports medicine, Tri-Beta Gamma Sigma, Zeta Phi Kappa sorority
Post-grad plans: Attending Washington University School of Medicine in St. Louis this fall as a student of the doctorate of physical therapy program.
Why did you choose Augustana?
Both of my parents attended Augustana, so I guess it was fate that brought me here. I fell in love with this campus after attending a spring Visit Day. The atmosphere of this campus was unlike anything I had ever experienced before. The small class sizes seemed to facilitate an environment were students were willing to learn and form close relationships with their professors and classmates. I could see myself thriving in that small, close-knit environment for the next four years.
Are you where you thought you'd be four years ago?
Yes and no. Another reason for attending Augustana was because of their agreement with Washington University. The top students who meet Wash U's acceptance standards are automatically accepted into their physical therapy program. While it was my goal to go to Washington University, I wasn't sure if I'd meet the requirements to be accepted to such a prestigious program. Fortunately, my time at Augustana has allowed me to gain valuable experiences and has challenged me academically, making me a competitive applicant for physical therapy schools. It's great to see that my hard work has paid off and I am going to the graduate school of my dreams.
Who helped you get to where you are now?
My parents have played a huge part in my success. They have always encouraged me to be the best that I can be and have supported me through everything. I have also had the opportunity of developing great relationships with my biology professors and advisor. These individuals have been great mentors and friends, and I owe them so much. If I ever had to ask a question or just wanted to drop in and talk, they were always available.
A peak experience?
My peak experience was my trip abroad to Nicaragua with JETS. While I have shadowed at PT clinics in the U.S., I never had the opportunity to actually work with my own patients. For six days, we saw patients of all different backgrounds, and it was eye-opening. It was that trip that really solidified my passion for physical therapy. While there, I developed great relationships with my translators and patients. To be able to learn more about the Nicaraguan culture and the individual life stories was amazing.
What did you learn about yourself in these past four years that surprised you?
I have learned that I am much more capable of overcoming challenges than I originally thought. Before Augie, I was shy and timid. Being able to join many groups and participate in activities at Augie has allowed me to open up and break out of my shell. I am now a lot more confident in my abilities as a student, leader and future physical therapist.
How did you use your Augie Choice?
I used my Augie Choice to spend the two weeks in Nicaragua with JETS.
What will you miss the most?
I am going to miss the many friends that I have made throughout these past four years. After a tough day, it meant everything to be able to play soccer with my teammates or hang out with my sisters. I will also miss the professors that I have come to know very well. Everyone at this school cares about one another, and it was this environment that made Augie feel like home. .
Advice for the Class of 2019?
Don't be afraid to leave your comfort zone: Try a new sport, join a new club, take a class outside of your major, go in and just speak to your professor. There are so many great people at Augie who are willing to be your friend. These people will be your support system throughout your journey at Augie.
"Mary is everything you hope for in a student: sharp, skillful, curious and resourceful. She has always taken her education into her own hands, pursuing requirements with purpose and electives with curious enthusiasm. I was not surprised to have Mary in my office throughout this year sharing news of admission to every highly selective DPT program she had applied to. She is capable of anything she sets her mind to and will always find herself invited to the table of opportunity."