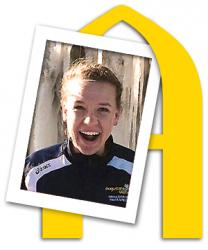 More Than I Imagined
Seniors reflect on accomplishments and look ahead
​Lorraine Stamberger
Graduation year: 2015
Majors: Geography, environmental studies
Minor: Music
Activities: Varsity cross country, varsity track & field, Symphony Orchestra, Geography Club, Tuesday Reflection Committee, Phi Beta Kappa
Post-grad plans: Attend the University of Illinois Urbana-Champaign to pursue a master's in landscape architecture
Why did you choose Augustana?
I chose Augustana primarily because of the school's 3+3 coordinate program for landscape architecture with the University of Illinois. Also, I wanted to start off at a smaller school where I could continue with my music and running passions.
Are you where you thought you'd be four years ago?
Definitely not. I was supposed to be at the University of Illinois this year, but I decided late in my junior year to stick around! I wasn't ready to leave Augie.
Who helped you get to where you are now?
I could make a list that goes on for pages! But the professors in the geography department — Dr. Strunk, Dr. Heine, Dr. Burnham and Dr. Fockler (and retired professor Dr. Norm Moline) — are on the top of that list. These folks turned my attitude about geography from "I guess that's cool" into "Wow! How can I learn more?"
A peak experience?
Cross-country camp up in Onamia, Minn., was a peak experience. At camp, worries are few, laughs are abundant, and spirits are high. A few fond memories include taking several infamous "Fred-cuts" (Coach Fred's version of a "short-cut"), waking up (and successfully alarming) the freshmen at 6 a.m., and running countless miles with my incredible teammates.
What did you learn about yourself in these past four years that surprised you?
I can strike up a conversation with just about anyone! Before college, I tried to hide from people if it meant avoiding conversation. Now, I love having long talks with people I either just met or know well. Getting to learn part of their story and discover their unique quirks is fascinating!
How did you use your Augie Choice?
The funds covered the costs for my Senior Inquiry research that I conducted last summer.
What will you miss the most?
I will miss the people. The faculty and staff, my classmates, my teammates and coaches, and my friends will be tough to leave. I will also miss the cafeteria food. Cooking for myself is a lost art!
Advice for the Class of 2019?
Get involved with the larger community outside of the Augustana bubble. Some of my experiences in the community such as being the piano accompanist for a nearby church have been life-changing. Whether you decide to take a walk along the Mississippi River, volunteer with a local non-profit or attend local events like farmer's markets and festivals, find a way to experience the Quad Cities from a different perspective. The Quad Cities will really begin to feel like home.
"On a class field trip, I once watched Lorraine climb up a heavily eroded stream embankment. She was nearly at the top when she started to teeter. Then she righted herself and gained balance. Lorraine is a perfect example of balance. She is intellectually professional, experiential and curious, and appropriately dedicated to her tasks at hand. Her research on river access in the Quad Cites was detailed, complex and successfully integrated multiple methodologies. On the track, in the concert hall, in the field or in the classroom, Lorraine rigorously commits, and the product is always authentic and excellent. She is an exemplar of Augustana's commitment to a liberal arts model."