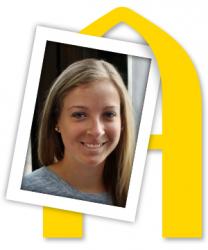 More Than I Imagined
Seniors reflect on accomplishments and look ahead
​Laura Behnke
Graduation year: 2015
Majors: Accounting, business administration-finance
Activities: Varsity softball, Epsilon Sigma Alpha, intramurals, Volunteer Income Tax Assistance
Post-grad plans: I intend to sit for the CPA exam this summer, and I will begin working full-time with Crowe Horwath in September.
Why did you choose to attend Augustana?
I was drawn to the fact that Augie has a strong academic reputation and an excellent softball program. In addition, everyone on my visit was so friendly and welcoming; it felt like home!
Are you where you thought you'd be four years ago?
Not at all! As a freshman, I really didn't know what I wanted to major in. I took many different classes as a freshman and sophomore. I took Principles of Accounting my sophomore year. I found that it was something I was pretty good at, and it interested me. I met with Dr. Delaney in the accounting department to talk more about the major; after which, I knew I wanted to go into accounting.
Who helped you get to where you are now?
My parents have been my No. 1 supporters, and I am so grateful for everything they've done for me. They have always been there for me no matter what, and it means so much to me when they come to see my softball games. Dr. Delaney has been very helpful throughout my four years here. He is so supportive of his students inside and outside the classroom. I am also very thankful to have had the opportunity to play softball for four years under Coach Kistler. She's been a great mentor, and I have learned many important lessons from her. I also want to thank all of the professors, coaches and teammates who have supported me.
A peak experience?
The softball team won the conference tournament my sophomore year. We were the underdogs going into the tournament, but we played really well against tough competition. By winning the CCIW tournament, we earned an automatic bid to the NCAA Regional tournament. The last two years we have made it to regionals, which have also been amazing experiences playing in such exciting, competitive atmospheres.
What did you learn about yourself in these past four years that surprised you?
I've learned to try to step out of my comfort zone a little more. Coming into college, I was pretty quiet. My junior year, I began giving tours to softball recruits. That turned out to be a really fun and rewarding experience! I enjoyed meeting prospective students, showing them around campus and answering their questions.
How did you use your Augie Choice?
I used my Augie Choice to travel with the softball team to the Dominican Republic, which is another highlight of my college experience. We played a few games against the Dominican's national team. We had a lot of time to sightsee and learn about the culture. My favorite part of the trip was holding a softball clinic for kids in a poor town and donating some of our equipment to them. It was nice to give back a little while we were there.
What will you miss the most?
I am going to miss my friends, teammates, coaches and professors. I've had so much fun these past four years with my friends and teammates, so it will be especially hard not to see them every day. I will also miss the buffet stops we make when our team travels for away games!
Advice for the Class of 2019?
Try to join a few clubs or activities you're interested in where you can meet others who have similar interests. The friends you make at Augie could become some of your lifelong friends!
"Laura Behnke represents the true meaning of student-athlete (excelling in the classroom and on the softball diamond). She is a tremendous role model for students who want to get the most out of their time at Augustana. Laura leads by example - she possesses an unrelenting work ethic that is obvious to those that know her. She is a star on our softball team and in our accounting program. She'll be a star at Crowe Horwath LLP as well when she begins her career in public accounting. It's been a pleasure working with her!"