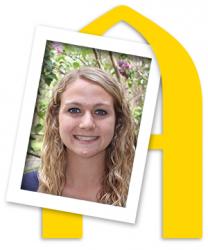 More Than I Imagined
Seniors reflect on accomplishments and look ahead
​Kimberly Grimmer
Graduation year: 2015
Majors: Mathematics, mathematics education
Activities: Varsity soccer, Phi Rho sorority, Order of Omega, Pi Mu Epsilon, Opportunity Kicks Tutoring, SAAC
Post-grad plans: I will be teaching math at Hinsdale South High School in Darien, Ill.
Why did you choose Augustana?
I chose to attend Augustana because it was a small liberal arts school that wasn't too far away from home. I was also given the opportunity to play soccer here, which I was really hoping to get to do in college. In addition, I knew at Augustana I would be able to play a varsity sport and study abroad while still graduating in four years.
Are you where you thought you'd be four years ago?
I think I am much better off than I thought I would be four short years ago. Augustana provided me with so many different opportunities and experiences I couldn't have dreamed of four years ago. Our varsity soccer team won the CCIW title while I was a sophomore, and we went to the NCAA tournament both my sophomore and junior years. I was lucky enough to get to study abroad in Australia and have an internship where I could apply my knowledge of mathematics in the workforce. Finally, I was given the chance to present my mathematics presentation at the ISMAA meeting in Chicago as well as at MathFest in Hartford, Conn. That was something I never thought I'd be doing or be confident enough to do.
Who helped you get to where you are now?
My parents definitely helped me get where I am today. Their constant support had a huge impact on my success in college. My professors also helped me get where I am now. Their high standards kept me working hard throughout all four years. The work ethic I developed from having Coach Mejia as a coach allowed me to achieve any goal I wanted to through hard work and perseverance.
A peak experience?
A peak experience for me was traveling to Italy with my soccer team over the summer. We played three games while we were there and were able to tour the beautiful country. It was a peak experience because you don't always get a chance to travel to another country with your closest friends, and I got to play soccer in Europe, which was always a dream of mine. We also left Italy undefeated, which was awesome as well!
What did you learn about yourself in these past four years that surprised you?
I learned that I really succeed in the small school setting, which isn't where I saw myself going when I was in high school. Augustana is smaller than my high school, but I learned that because it is smaller I had the opportunity to do more things and get to know more people and my professors.
How did you use your Augie Choice?
I used my Augie Choice to study abroad in Australia during my junior year. This was another peak experience of mine. I traded in the brutal winter for the warm Aussie sun. Traveling across the world with my closest friends for two months was an experience I can't even put into words. I went scuba diving in the Great Barrier Reef and bungee jumping in New Zealand, learned about the differences in cultures between Australia and the United States, and got the chance to intern with the company Temple and Webster while there.
What will you miss the most?
I will miss living with and seeing my friends and teammates every day. That was one of the highlights for me. I will also miss walking on campus and enjoying how beautiful Augie is in the fall and spring.
Advice for the Class of 2019?
Participate in anything and everything you can! There are so many opportunities at Augustana, so make sure to put yourself out there and try them all! I know I did, and it was the best choice I made.
"It is important to note that while her physical ability is exceptional, what I truly appreciate about Kimberly is her mental discipline and commitment to excellence. Her perseverance through the difficulties associated with training at a high level, consistent performance and competing for a position is unparalleled. She has heart and focus that is remarkable, and for that reason she will always be successful at anything she endeavors."