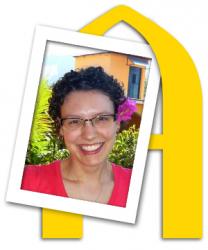 More Than I Imagined
Seniors reflect on accomplishments and look ahead
​Kerry Robbins
Graduation year: 2015
Majors: Psychology, communication studies (non-profit certificate)
Activities: Clogustana, Tuesday Reflection committee, Alpha Phi Omega service fraternity, Harvest Bible Chapel Small Group Bible Study, Psi Chi, Lambda Pi Eta, Omicron Delta Kappa, Mortar Board, Phi Beta Kappa
Post-grad plans: Attend East Carolina University for graduate school to study family relations with a concentration in child life to become a certified child life specialist
Why did you choose Augustana?
I visited Augustana a half dozen times before committing to attend, each time finding something that pulled me back: helpful staff, friendly students, abundance of opportunities, beautiful campus and a sense of belonging. I didn't make a decision to attend Augustana right away, and I'm glad I didn't — I wouldn't have appreciated everything about Augie had I not spent so much time considering all Augie has to offer.
Are you where you thought you'd be four years ago?
Four years ago, if someone had told me I would have traveled to another country, been a major part in planning a national organization-sponsored conference, spent a summer in an unfamiliar city, applied to seven graduate schools (and got in!), and doubled majored in psychology and communication studies, I would have replied: "not me!" But that's just it; those experiences would never have been done by the four-years-ago me. Instead, they were accomplished as I grew and with the support and encouragement of great mentors, friends and family.
Who helped you get to where you are now?
There have been countless numbers of people who have helped me the last four years — from family to friends, peers, faculty, mentors, community members and more! I have no doubt that I wouldn't be the lady I am today without the constant guidance, push, encouragement, support, willingness to listen and love from so many. I found a second home here at Augie, and I am forever grateful.
A peak experience?
Every experience during my time at Augie has added something to my time here. Two highlights are my experience in Houston, Texas, this past summer as an intern for the Children's Art Project through the Texas Medical Summer Research Internship Program, and my participation in St. Baldrick's.
For my internship, I was given the opportunity to spend 11 weeks in a beautiful city with a fantastic group of fellow Augie students, at an organization that built my skills and personal values/goals. I have remained in contact with those I worked with this past summer and gained lifelong friends.
My participation in St. Baldrick's was something I felt called to do the beginning of my sophomore year. It spurred my passion to work in a field with children battling cancer and other terminal illnesses. Shaving my head was definitely out of my comfort zone. However, I learned a LOT about myself as an individual and the power of a support system through the process of fund-raising, shaving, being bald and growing my hair back.
What did you learn about yourself in these past four years that surprised you?
Coming to Augustana, I had very little confidence in my abilities. Throughout these past four years, I was blessed to meet a wonderful group of friends and mentors that supported me and reinforced my confidence levels. I learned that if I set my mind to something, work hard and pray, I can do what I put mind to.
How did you use your Augie Choice?
During spring break 2014, I traveled to Guatemala in conjunction with the Childhood in the Developing World class through the psychology department. This was my first time out of the country, and I could not have asked for a more inspiring, life-changing experience.
What will you miss the most?
The people! Augustana staff and my fellow students have become my second family. I will definitely miss the lifelong relationships I have formed and the constant support I have received.
Advice for the Class of 2019?
Be open to new experiences. College is a time to explore new skills, get to know more about yourself, and make mistakes (and learn from them!).
"So much about Kerry is impressive, including the intentionality with which she has pursued a career path. She has been incredibly reflective in her approach, exposing herself to various experiences to be certain that she's suited for a career as a child life specialist, helping children and families cope with the challenges of hospitalization and illness. This includes her prestigious internship at Texas Medical Center and her on-campus leadership experiences, including coordinating events for families of children with cancer for the Children's Miracle Network Dance Marathon."