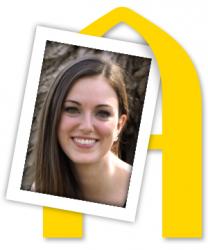 More Than I Imagined
Seniors reflect on accomplishments and look ahead
​Kelsey Kammerzelt
Graduation year: 2015
Majors: Graphic design, communication studies
Minor: Art
Activities: Zeta Phi Kappa sorority, CORE
Post-grad plans: Obtain a job in event planning and then work up to a position in the fashion industry.
Why did you choose Augustana?
I chose Augustana because I wanted to go to a school that was far enough from home, but also a comfortable distance. I loved the small class sizes and liberal arts education Augie offered.
Are you where you thought you'd be four years ago?
Definitely not. I started out as a biology/pre-medicine major, and then I totally flipped my decision and changed my major to deal with the arts. I never thought I would be so fortunate to have the opportunities I was given. I am proud that Augie allowed me to have so many of those amazing opportunities that I could never have dreamed of when I first started at Augustana.
Who helped you get to where you are now?
There were a variety of professors and colleagues that helped me see that I was capable of more than I thought I was. Kelvin Mason introduced me to the major of graphic design, and I was fascinated by the possibilities that the major could create for me. Dr. Wendy Hilton-Morrow and Dr. Ellen Hay also played a huge role in my successful decisions as a communication studies major because they allowed me to develop as a professional through my internships. Vickie Phipps also encouraged me and helped me land an awesome internship in London and understand my style as a graphic designer.
A peak experience?
My peak experience was when I decided to switch majors. Although it was scary at the time, it opened a lot of doors for me, and I pushed myself with the help of my professors to jump right into a new field and a new discipline.
What did you learn about yourself in these past four years that surprised you?
I learned that challenges are where I excel best. I learned that I am capable of more than I ever thought I would be, and I learned that I am actually a leader when I always thought I had the personality of a follower. I have been able to learn a lot about leadership, and I think that is really important for the future.
How did you use your Augie Choice?
I studied abroad in London for seven weeks. I was able to live there and complete an internship within PR at an internationally known fashion brand named Marc Cain.
What will you miss the most?
Everything! I'll miss the people and the beautiful campus. I'll miss the color of the leaves during the fall and the smell of the slough in the summer.
Advice for the Class of 2019?
Make the most of this experience! Get involved in anything and everything that interests you, even if you will not know anyone in that club or organization. This is a great way to meet new people and find opportunities!
"Kelsey demonstrated leadership skills as a core member of the Augustana AIGA (American Institute of Graphic Arts) Student Group. Their efforts have resulted in a long list of accomplishments, including earning national affiliation status with AIGA and gaining recognition from Augustana as an official student group. I predict that Kelsey will run Vogue magazine out of business with the launch of a new fashion magazine. After that I suspect she will volunteer her time making the world not only more beautiful, but a better place to live."