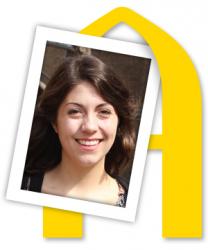 More Than I Imagined
Seniors reflect on accomplishments and look ahead
​Jessica Launius
Graduation year: 2015
Majors: Teaching mathematics; mathematics
Activities: Camp Kesem at Augustana, Club Ed, Reading/Writing Center
Post-grad plans: I'm looking for a job teaching high school math.
Why did you choose to attend Augustana?
Honestly, Augustana was the only school I visited that felt right. I stepped onto the campus, and I knew I could be at home here. Augie hasn't proven me wrong yet.


Are you where you thought you'd be four years ago?
Not at all. Yes, I thought I'd be on track to graduate, and yes, I thought I'd still want to be a teacher, but I never could have imagined that I would have developed the friendships I have or that I would have become so involved on campus. I've developed more than I thought I would, both in class and outside of class.

Who helped you get to where you are now?
Love love love to my parents. They've supported the decisions I've made about my future and have helped me celebrate my achievements thus far. At Augustana, I owe a lot to Dr. Mike Egan, my education advisor, who's helped me navigate my college years, and Lucas Street and Virginia Johnson in the Reading/Writing Center who gave me a job that doesn't feel like a job, and a place to call home during the school year. A huge shout-out to all of the Camp Kesem folks as well! They've been my family since Day One.

A peak experience?
During spring break of my senior year, I studied abroad in Jamaica and had the opportunity to work with high school girls at an inner-city school. It was amazing to interact with students from a different country and be able to compare cultures. I also jumped off a waterfall while I was there, so that was fun, too.
What did you learn about yourself in these past four years that surprised you?
I was surprised by my ability to adapt to new situations. College itself is a huge adjustment, but I've been constantly adapting during my time here. From student teaching to being co-director of Camp Kesem to living on my own, I've been surprised at my ability to achieve as much as I have.


How did you use your Augie Choice?
I used Augie Choice to study abroad in Jamaica where I taught math to high school girls in inner-city Kingston.
What will you miss the most?
The energy of the Augustana campus, the color of the slough path in fall, the fun of bingo nights, the thrill of constantly being minutes away from people I truly and completely connect with, the excitement of another Camp Kesem meeting, and that feeling I get when I step onto campus and think to myself, 'Yes, this is it, this is mine, this is me.'
Advice for the Class of 2019?
Buy yourself a solid pair of rain boots. More seriously, have fun, breathe, and know you're going to have a great four years!
"While I only had the pleasure of having Jessica for a single course, I was immediately impressed with her abilities. She combines a keen mind with a high degree of intellectual curiosity and a very pleasant personality. I would love it if she were my kids' teacher! I know that she will make the department and Augustana proud wherever the future takes her!"