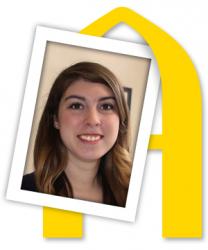 More Than I Imagined
Seniors reflect on accomplishments and look ahead
​Jessica Gerdisch
Graduation year: 2015
Majors: Communication sciences and disorders; French
Activities: Augustana Symphony Orchestra, UNYK Multicultural Dance Troupe, Zeta Phi Kappa, Phi Beta Delta, Augie International
Post-grad plans: Grad school for speech-language pathology
Why did you choose to attend Augustana?
I participated in the Augustana Summer Academy the summer before my senior year of high school and did the "A Day in the Life of a Speech Pathologist" program. It was what convinced me of my major and that Augie was the perfect place to study it!
Are you where you thought you'd be four years ago?
Physically, yes, but I have definitely grown as a person a lot in the past four years through my experiences here at Augie.
Who helped you get to where you are now?
Many of my professors and clinical supervisors have helped me in countless ways to get me to where I am now, especially Joni Mack and Chadia Chambers-Samadi. Mrs. Mack ran my summer academy sessions and was my first clinical supervisor at Augustana's Center for Speech, Language and Hearing. She gave me the encouragement and push I needed to become the clinician I am today, and has been there for me since before I was even a student at Augie! Dr. Chambers-Samadi was the French faculty member during my study abroad experience and is my advisor for my Senior Inquiry. She has always supported my speaking and writing in French, furthering my knowledge and love for the language throughout my time here.
A peak experience?
Definitely when I studied abroad in Dijon, France, for six weeks the summer before my junior year here. I became so much more confident in the French language and loved being immersed in the culture. We were also able to visit Paris, the Loire Valley and the Alps while we were there, and it was amazing. I would do it again in a heartbeat if I could!
What did you learn about yourself in these past four years that surprised you?
I learned that I am much more of a leader than I ever thought I was. I was very used to staying in the background and not speaking up if I disagreed, but Augie definitely changed that for me. Through the way the classes are taught to the different leadership opportunities I have had through my extra-curricular activities, I feel like I have become confident in my ability to lead others in both classwork and other group activities.
How did you use your Augie Choice?
For my study abroad experience in Dijon.
What will you miss the most?
The small class sizes and the ability to know most of the people on campus. You don't get that at a big university!
Advice for the Class of 2019?
Enjoy every second and don't stress about the small stuff. It will all work out.
"Jessica has been active in the music department since stepping on this campus. She takes private viola lessons, and plays in the orchestra, a chamber ensemble and our viola ensemble. She is equally comfortable in both leadership and supporting roles. No matter what is asked of her, her answer is always "Yes!", even on a moment's notice. She is living proof of the adage, 'If you want to get something done, ask a busy person.'"