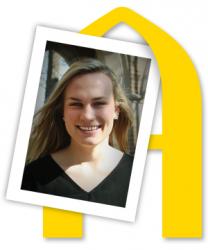 More Than I Imagined
Seniors reflect on accomplishments and look ahead
​Jessica Bacon
Graduation year: 2015
Major: Elementary education
Minor: Psychology
Activities: Varsity cross country, varsity track and field, Phi Rho sorority
Post-grad plans: I will be teaching fifth grade in the Moline School District.
Why did you choose to attend Augustana?
To be completely honest, I chose Augie because my mom works here. The second I set foot on campus, however, I realized Augie was the perfect choice for me.
Are you where you thought you'd be four years ago?
Four years ago, I wouldn't have even dared to dream I'd be where I am now. I entered my freshman year wanting to be a psychology major, with the hopes of being a counseling psychologist. Elementary education had always been in the back of my mind, but I credit an awesome experience in Dr. Egan's Urban School Legends LSFY class with opening my eyes to what I wanted to be. Keeping my psychology minor has also allowed me to tie together two things I am very passionate about!
Also, participating in collegiate cross country and track provided me with lifelong friendships and experiences such as running at the Drake Relays and the NCAA DIII Track & Field Championships.
Who helped you get to where you are now?
My family and friends are definitely at the heart of who I am as a person today. I also owe a great deal to my professors. A very special thanks is due to my professors in the education and psychology departments. I definitely grew in terms of academic knowledge, but what I appreciated most was how much I learned from observing my professors as teachers and developing relationships with them.
On the athletic side, I have learned countless life lessons from my coach, Fred Whiteside. There is no one else who will teach you to embrace life quite like Fred! Additionally, I never would have had the kind of track career I've had without the help of our distance coach, Creston Fenn, and teammates who have constantly pushed me, supported me and reminded me to have fun!
A peak experience?
It's hard to pick one peak experience. All of my favorite experiences at Augie have been ones that reminded me to love life. Although I'm very tempted to choose running at the NCAA DIII Track Championships as my No. 1 (definitely something I will always remember), I would have to list traveling to Guatemala as part of a study abroad program as my ultimate peak experience. Not only did it push me out of my comfort zone, it also helped me see that the world is so much bigger than my own bubble. I had to miss my indoor conference track meet to make the trip, but I think that was a good thing for me. The experience really served as a reminder of the bigger picture in life. There is always something new that can be learned from others, and I credit Guatemala with helping me understand this.
What did you learn about yourself in these past four years that surprised you?
I learned that I am much braver than I thought I was. My time at Augie has helped me to take more chances, whether it was speaking my mind, joining an organization I didn't already have friends in or making a move in a race. I have learned, and am still learning, that I'm OK with doing things I may fail at.
How did you use your Augie Choice?
Traveling to Guatemala during my junior year.
What will you miss the most?
I'm going to miss living with my best friends, spending time with my team and taking classes I'm interested in (probably won't miss the homework though). I can't really wrap my mind around what it will be like next year when I don't have to be at practice at 4 every day, or when I can't walk into a friend's room just to chat, but I know these will be memories I'm going to cherish.
Advice for the Class of 2019?
Find something that you love doing and people that you love spending time with. Every day you spend at Augie is a part of YOUR life story, so enjoy it and put yourself out there! Don't be afraid to have amazing experiences and some not-so-great experiences. They will make you who you are!
"I was very fortunate to have been able to coach both Jessica's mom and dad at Augustana. I believe that Jessica's sense of the tradition of strong academics and strong athletics was instilled into her by her parents. This fall when she was student teaching, somehow she was able to balance her time between teaching and running. She will be an excellent teacher, and I'm sure the lessons learned as a runner will continue to help her. It has been an honor to watch her run these past four years."