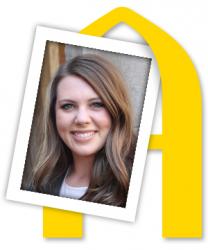 More Than I Imagined
Seniors reflect on accomplishments and look ahead
​Jamie Conroy
Graduation year: 2015
Major: Business administration-marketing
Minor: Accounting
Activities: CORE, Phi Rho sorority, Student Government Association, Young Life Quad Cities
Post-grad plans: To work in the marketing field — hopefully in event planning or sales!
Why did you choose Augustana?
I narrowed my final two colleges to Augustana and the University of Illinois — completely opposite! I chose Augie because I fell in love with campus and the Augustana life while on my tour. Visiting campus provided me with opportunities to explore what I truly wanted out of a college experience. I felt a strong connection and wanted to be involved in a smaller school setting where I could get to know my teachers on a more personal level than compared to a larger school.
Are you where you thought you'd be four years ago?
A lot goes on in four years, but I am very grateful to be where I wanted to be four years ago! As a first-year, I knew I wanted to major in business, but I did not know exactly which concentration I would declare. I absolutely fell in love with the marketing classes offered, and it was a perfect fit. Because of Augustana, I have had amazing opportunities to lead multiple student groups on campus, which has allowed me to grow not only as a student on campus, but also as a professional seeking employment.
Who helped you get to where you are now?
My family, especially my parents, has always been my main support system. They have constantly provided me with so much love and willingness to help me be the person I am today. Additionally, I cannot thank Augustana enough for the wonderful friend group it has provided me. My professors have also been an incredible blessing in helping me grow. Being able to develop relationships with my professors has been extremely rewarding. I cannot express enough how grateful I am to have them be so involved in my experiences and future career path — they truly are the best!
A peak experience?
My study abroad trip to Australia was my peak experience. It was an amazing opportunity to grow and stay out of the cold for eight weeks! I completed an internship as an event planner with Sydney Observatory, where I planned their biggest fundraising event. This was something that was incredibly beneficial to my major. I was able to plan and execute the event in downtown Sydney! Australia allowed me not only to have my internship, but also to travel. I had the experience of a lifetime traveling in Australia, while being able to climb the Sydney Harbour Bridge, go to the Great Barrier Reef, experience Milford Sound, go "canyoning" and see "Modern Family" being filmed.
What did you learn about yourself in these past four years that surprised you?
Something that has surprised me over the last four years is how much you grow as an individual. I have learned how to be extremely organized, manage my time, and step out of my comfort zone. Augustana allows you to take chances on something you would not have necessarily done on your own. In high school I did not envision holding leadership positions in a lot of the organizations I have been a part of.
How did you use your Augie Choice?
I used my Augie Choice on my study abroad trip to Australia and New Zealand.
What will you miss the most?
The people. I am really going to miss being able to walk down the hall to go to one of my best friends' rooms, always have someone to watch Netflix with, getting stopped in the Brew for what should be five minutes and it turns into 30, and my favorite: spotting those maroon jackets everywhere on campus! The amount of love and support my friends have given me these past four years is something I am so grateful for!
Advice for the Class of 2019?
Get involved! It is such a great way to meet new people, do something you're passionate about, and step out of your comfort zone. Whether it's being on an athletic team, joining a club, volunteering, Greek life, OSL, etc., do it! You won't regret it.
"Jamie has been an integral part of launching CORE this year. As a senior, she helped manage the office and train new student workers with the highest levels of professionalism. She will bring immediate value to whatever organization decides to hire her. With the strong foundation of skills and experiences she built at Augustana, Jamie will have an outstanding career. CORE will certainly miss you next year! All the best Jamie."