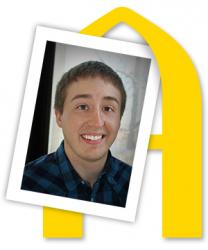 More Than I Imagined
Seniors reflect on accomplishments and look ahead
​Jacob Groselak
Graduation year: 2015
Major: Biology-pre-dentistry
Activities: Varsity golf, ACHOO (Augustana Community Health Outreach Organization), Reading and Writing Center, Tri-Beta Sigma Gamma
Post-grad plans: Attend the University of Illinois at Chicago College of Dentistry
Why did you choose to attend Augustana?
Of all the schools that I applied to, Augustana offered the most intimate experience. The breathtaking campus along with the small class sizes and opportunities to get involved made the choice to come to Augie an easy one. Being able to actively involve myself with the golf team and other organizations greatly enriched my education.
Are you where you thought you'd be four years ago?
Four years ago, I hoped I'd be getting ready to go to dental school. I am, but I feel that I'm more prepared than I'd expected. The liberal arts education has helped me develop into a well-rounded individual. Because I've had to take classes in the arts and social sciences, for example, I will be able to more readily discuss a variety of topics with my patients and make informed decisions. More than anything, I believe that Augie has prepared me to be a lifelong learner.
Who helped you get to where you are now?
How do I begin?! The faculty and staff are all so willing to help whenever asked. Many even go out of their way to make sure that we are on the right track. The faculty in the biology department are fantastic, and having such small class sizes has allowed me to develop strong relationships with many of them. I know that many of these relationships will outlast my time at Augie.
My advisor, Dr. Jason Koontz, has done so much to help me prepare for dental school. Lucas Street and Virginia Johnson of the Reading and Writing Center have taught me the value of interpersonal communication and working as a member of a team. My golf coach Paul Del Vecchio has been an amazing mentor and has taught me the value of respect and the reward for hard work. In the sciences, particularly Dr. Jose Boquin, Dr. Kimberly Murphy and Dr. Dara Wegman-Geedey have shown me that passion for what you are doing is the most important characteristic of a successful scientist. I hope to remain close with these people because they all have made an enormous difference in my life, and I am forever indebted to them.
A peak experience?
Traveling to Nicaragua with the 2013 JETS was an extremely rewarding experience. For two weeks in the summer, a group of Augie students traveled throughout the Nicaraguan countryside assisting professionals in medical, dental, veterinary, optometry, pharmacy, physical therapy and public health clinics. While there, I was able to see the difference that these professionals can make in the lives of many people, and this experience really cemented my decision to become a dentist.
What did you learn about yourself in these past four years that surprised you?
My experience tutoring in the Reading and Writing Center taught me the value of interpersonal communication. I have become confident in communicating ideas orally and in writing. I have been able to see the difference that my tutoring has made in people's lives, and I have the faculty in the Reading and Writing Center to thank for these skills.
How did you use your Augie Choice?
I used my Augie Choice for the trip that we made to Nicaragua with the 2013 JETS.
What will you miss the most?
Honestly, I will miss being surrounded by all the family that I have gained in the last four years. Many of the friends that I have now I met in the first few months of my freshman year and have shared many memories. I'm not looking forward to having to say good-bye to these people at graduation, when many of us will go separate ways pursuing our careers. I know though that many of these people will be actively involved in my future life, as I will be in theirs, and to me this is truly more than I could have ever imagined.
Advice for the Class of 2019?
Keep an open mind. Many of the experiences at Augie are once-in-a-lifetime opportunities, and I am glad that I have been able to take advantage of many of them. Develop relationships with the Augie faculty. Take classes that are outside the scope of your major or minor. Join a club and meet new people. Augustana has so much to offer, and if a student is solely devoted to his or her future profession or career, he or she might miss out on many of the opportunities that transform the college experience into the "Augustana" experience.
"Jake has many strengths, but chief among them are his authenticity in leadership roles and his commitment to serving others. He leads via collaboration, modeling for his peers a cheerful, conscientious commitment to genuine learning. His outstanding interpersonal skills and desire for excellence will serve him well in his future dental practice."