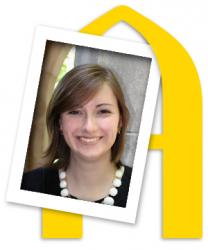 More Than I Imagined
Seniors reflect on accomplishments and look ahead
​Hannah Sundwall
Graduation year: 2015
Majors: Business administration-management and marketing
Minor: Music
Activities: Alpha Phi Omega, Student United Way, Dance Marathon, Business Club, Clogustana, Concert Band, Baseball Operations–Augustana Baseball
Post-grad plans: Work for a baseball organization in some capacity! My ultimate goal is to become a general manager for a major league baseball team.
Why did you choose Augustana?
I chose to attend Augustana as a freshman in high school. I came on a visit to campus with my sister who was a junior in high school at the time. I instantly fell in love with everything about the school and decided that I wanted to be a future Viking! I told my sister Kelsey not to "steal my school." We ended up having an overlap of two years at Augie, and I wouldn't change that for the world!
Are you where you thought you'd be four years ago?
Not at all. I never thought that I would hold multiple executive board positions, including being the president of three clubs, working for a major league baseball team or moving across the country for a summer to a city I had never been to and move in with people I never met. My freshman self would be proud of who I am today!
Who helped you get to where you are now?
First off, I would not be the person I am today without the full support my family and friends have continuously given me. The business faculty have shown me support in all my baseball endeavors, especially Dr. Tapis and Mrs. Marmé who always encourage me to reach for the stars. And last but not least, Coach Greg Wallace, head baseball coach. He gave me an opportunity to work with the baseball team, an experience I am not sure I would have been given at any other school, and for that I am eternally grateful. The experience I gained from working with the Augustana baseball team prepared me for the various internships I have held.
A peak experience?
I am torn between two experiences. As a member of Alpha Phi Omega (APO), I was honored to be conference chair for a sectional conference held at Augustana last spring for different chapters of APO in Illinois. It was a yearlong planning process and a lot of work, but to see the end result and to show off Augustana's campus to other members of APO was a great feeling! Secondly, this past summer, I was an intern with the Baltimore Orioles in the public relations department. Michelle King, an Augie alum, graciously hosted me, and we became fast friends. It was one of the best summers of my life, and I am forever grateful for that experience.
How did you use your Augie Choice?
I used my Augie Choice for an internship with the Augustana baseball team.
What will you miss the most?
I will miss walking around campus, going to Augustana baseball games, and just the overall community of Augustana. I have made many wonderful friends and found mentors in many of the faculty and staff.
Advice for the Class of 2019?
Reach out to the person who has the job you eventually want, audition for "The Voice" or "American Idol" if that's something you are passionate about, apply for your dream internship or do all of the above. You never know what you are capable if you don't try...so dream big, take chances and know that something great is going to happen!
"Hannah is a remarkable young lady with a tremendous amount of passion. She is the epitome of a well-rounded person with so many interests and talents that have made her a leader among her peers. Her work ethic and character are a model for others to follow. Her presence over the last three years with the Augustana baseball program has been not only a valuable experience for her and her quest to work in professional baseball, but also a much appreciated privilege for all of us who have come to know her and her love of the game of baseball. She has made Augustana and myself very proud."