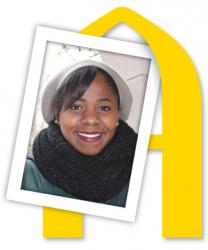 More Than I Imagined
Seniors reflect on accomplishments and look ahead
​Ebony Allen
Graduation year: 2015
Major: Philosophy
Minors: Ethics, political science, women's and gender studies
Activities: Student Government Association, Student Judiciary, Delta Chi Theta sorority, Black Student Union, Multicultural Programming Board, Order of Omega, Royal Neighbors of America
Post-grad plans: Attend Yale University's Sherwin B. Nuland Summer Institute in Bioethics and attend law school to pursue a career in health law, health policy and bioethics
Why did you choose to attend Augustana?
I chose Augustana because of all of the opportunities the college has to offer. Augustana has small class sizes, over 100 student organizations, Augie Choice, and professors who hold a Ph.D. or the highest degree in their field of study. Besides these opportunities, I felt that Augustana was a place where I could grow both academically and as an individual.
Are you where you thought you'd be four years ago?
Not at all! I never thought I would be a philosophy major or a triple minor. I never knew how much Augustana would grow to become my home or how much I would accomplish in the last four years. Starting my college career, I only dreamed of going to law school. Though I still plan to attend law school, I did not think I would find my passion in the health field. I have grown in more ways than I could have imagined, and in part I have to thank Augustana for that.
Who helped you get to where you are now?
My family, who supports me no matter where my passions take me. My friends, who accept me as I am and encourage me to take each opportunity as it comes. Dr. Storl, who continues to support me in every way possible, and the rest of the professors in the philosophy department who challenge me to think critically. Dr. Lee! I cannot thank him enough — the countless hours I have spent in his office talking about my future goals and having his support. Dean Anderson, who continues to see my potential and growth as an individual. To all of those I did not name individually but who have made an impact on my life, thank you!
A peak experience?
My peak experience has been volunteering as a Befriender at UnityPoint Health Trinity. As a Befriender, I have the unique opportunity to visit with patients and listen to their stories. I never knew how willing people are to open up to a complete stranger! I am more convinced than ever that the health field is where I am meant to be.
What did you learn about yourself in these past four years that surprised you?
I learned that I am stronger than the obstacles that I face. Whether it is finding the right major or minor for me and deciding what I want to do post-graduation or facing health problems, I learned that I define who I am. The obstacles that I face do not define me.
How did you use your Augie Choice?
In the summer of 2014, I used my Augie Choice to help finance my Texas Medical Center internship.
What will you miss the most?
What I will miss the most is the late nights I spent staying up with my friends.
Advice for the Class of 2019?
Four years will pass by faster than you know; don't be afraid to put yourself out there. Meet people, build relationships with your professors, stay true to yourself, try your best and have fun!
"I had no idea, when I first met Ebony, what a superstar she would become! She seemed quiet at first, but when I read her written work, I realized that there were deep thoughts stirring within. I am proud of all our ethics minors, but I am particularly proud of Ebony, who scored an internship at the Texas Medical Center and a summer fellowship to study bioethics at Yale. She can tackle difficult, dense texts with ease and grace, all the while humbly laughing off the significance of her own accomplishments. Ebony has flowered at Augustana, and I can't wait to see what the future holds for her."