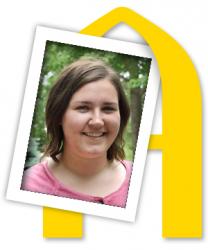 More Than I Imagined
Seniors reflect on accomplishments and look ahead
​Chelsea Ashland
Graduation year: 2015
Majors: Psychology, sociology (social welfare), and women's and gender studies
Activities: Alpha Phi Omega, Admissions Ambassador
Post-grad plans: I will be attending the University of Wisconsin-Madison to obtain my master's in social work.
Why did you choose Augustana?
I was unsure what I wanted to do with my life when I was looking at colleges. I chose Augustana because of the Four-Year Graduation Agreement and the opportunity to come in undecided. That allowed me to start college with the ease of mind that I would graduate in four years and be able to explore different majors to find the one that I wanted to study for the next few years. As it turns out, I found three majors and am still graduating in four years!
Are you where you thought you'd be four years ago?
I am definitely not where I thought I would be four years ago! Coming into school was difficult when most of my friends knew what they wanted to major in, while I had no clue. My first year was a huge year of exploration for me to find something I was passionate about. Thanks to some direction from an advisor, I ended up taking classes in all three areas that soon became my majors, and I have been hooked ever since. And on top of it all, I never in a million years would have guessed I would be going to get my master's in social work from one of the best programs in the country!
Who helped you get to where you are now?
So many people have helped me to get to where I am today. All of my academic advisors and professors have been incredible mentors and role models. They not only pushed me in class, but also steered my development outside the classroom with research, jobs, involvement in committees and personal exploration. The Augustana Admissions Office has also been extremely supportive over the past three years that I have worked there as well. Not only have they helped me to really dig into my Augustana experience, but they have been allowing me to share my story with perspective students. It is the best feeling to be able to be surrounded by such supportive people on a daily basis.
A peak experience?
One of my peak experiences was being offered a position as a result from my clinical experience in the psychology department as a residential counselor intern and then getting into graduate school. These events were the summation of all my hard work that I have done at Augustana. It showed that all of my classes, internships, volunteer experience, study abroad and jobs finally paid off. It is such a rewarding feeling knowing that I am ready to take off in my field after graduation!
How did you use your Augie Choice?
I used my Augie Choice to go to Guatemala with the psychology department to study childhood in the developing world. This was such an eye-opening experience for me to witness extreme poverty, experience language barriers and discover my role as a global citizen.
What will you miss the most?
I will most certainly miss the professors, our beautiful campus and the awesome traditions at Augie. I will also miss Whitey's.
Advice for the Class of 2019?
Say yes to new experiences. If you do this, you will have some amazing stories from experiences that went really well and some hilarious stories about experiences that made you grow. Not every experience you take will be immediately life-changing, but each one will help you grow along the way.
"As a triple major, Chelsea has thoughtfully and deliberately chosen courses and experiences that prepare her for domestic violence advocacy. She was part of a group that organized a campus Clothesline Project; she participated in our Victim Advocacy course, in which she underwent intensive training at a local domestic violence program to become certified to work with survivors; and has interned at two local programs. Her SI thesis studied the effectiveness of sexual assault prevention programming on campus, breaking new ground in conducting research of this type at Augustana. Her contributions — both academic and in terms of her quiet but steady activism — have made a lasting impact on our campus."