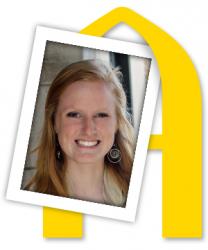 More Than I Imagined
Seniors reflect on accomplishments and look ahead
​Brittany Burk
Graduation year: 2015
Majors: Communication sciences and disorders; psychology
Minor: Sociology
Activities: Alpha Phi Omega, UNYK, Clogustana, Harvest Small Group, ASSHA, Tuesday Reflection Committee, Campus Ministries' Appalachian Service Trips, Dance Marathon Executive Board, Mortar Board, Omicron Delta Kappa
Post-grad plans: I will pursue my master's in speech-language pathology at Texas Christian University. Eventually, I hope to work with pediatric brain injury patients in a rehabilitation setting.
Why did you choose Augustana?
I chose Augustana because I was looking for an academic community that cared about me and did not see me as just a number. I also was looking for friendly and approachable faculty. The fact that the campus is stunning didn't hurt either!
Are you where you thought you'd be four years ago?
When I first came to Augustana, I was pretty uncertain about what I wanted to do with my life after college. Now I know that I am in the perfect majors and could not be happier!
Who helped you get to where you are now?
It's hard to say who specifically helped me get to where I am today. I discovered my major by visiting what is now called CORE. They helped match me to a major and vocation that best fits my personality, skills and life goals. My professors, study abroad and service experiences, and liberal arts education also played a part in getting me where I am now.
A peak experience?
There are three peak experiences for me. The first would be studying abroad in Guatemala. The second would be working with refugee children in the Quad Cities. I have discovered that working with refugees and immigrants is a passion that I have hope to continue to pursue in the future. Lastly, my trips to Appalachia have been incredible. Those trips helped me grow as a person and have taught me various skills like how to repair a hole in the floor!
What did you learn about yourself in these past four years that surprised you?
Being able to step outside of my comfort zone and try something new is the biggest thing I have learned about myself in the past four years. I have been able to prove to myself that I can accomplish things that I would never have imagined I could do!
How did you use your Augie Choice?
I went to Guatemala during my spring break of my junior year. The intent was to study child development in developing countries. It was a life-changing and eye-opening experience. I definitely left part of my heart with the people in Guatemala. A highlight was playing soccer with Mayan children on the side of a mountain!
What will you miss the most?
Everything. Augustana is like home to me now. It will be tough to leave my phenomenal relationships with faculty, incredible friends, and those amazingly beautiful walks through campus in the fall. Oh! And Whitey's ice cream.
Advice for the Class of 2019?
Try new things. Even things that you do not think you will be good at or know nothing about. You could discover a passion you never knew you had. Also, cherish each day. They go by fast!
"Brittany has been an absolute pleasure to work with because she is intrinsically motivated by her curiosity and passion for diverse interests. For example, she completed an Honors capstone project looking at the impact of post-traumatic stress disorder on cultural assimilation in refugees, and is also working on a research project related to communication and traumatic brain injury. Brittany has far exceeded my expectations and will continue to do so in graduate school."