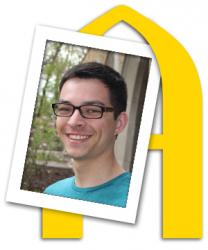 More Than I Imagined
Seniors reflect on accomplishments and look ahead
​Brian Jozwiak
Graduation year: 2015
Majors: Vocal music education vocal performance
Activities: Augustana Choir, Augustana Chamber Singers, Augustana Symphony Orchestra, National Association for Future Music Educators, American Choral Directors Association, Phi Mu Alpha Sinfonia–Zeta Beta Chapter
Post-grad plans: I plan to direct a vocal music program in a local high school or middle school. I also hope to remain involved in performing, whether through a church or participating in a professional ensemble.
Why did you choose Augustana?
I chose to attend Augustana mainly because of the Augustana Choir. I attended one of their tour concerts during my junior year in high school and was quickly convinced that I wanted to be a part of the group. When I came to visit Augustana, I liked the small class sizes, the individualized attention that students received, the sense of community within the student body and the beautiful campus. It was an easy decision to make.
Are you where you thought you'd be four years ago?
I think that in some ways, I definitely am. The activities I am involved in and the people I surround myself have not changed much. However, my experiences at Augustana have undoubtedly shaped me into a more thoughtful, compassionate person, which will allow me to be successful in any career path I choose.
Who helped you get to where you are now?
My professors and advisors Dr. Zemek, Dr. Hurty and Dr. Pfautz have each challenged me to strive for excellence in all that I do and have supported me through my growth as a teacher, musician and a person. Also, my friends have helped keep me centered through all the stress and have reminded me to enjoy life.
A peak experience?
Any tour I took with the Augustana Choir. The euphoric rush that the choir experienced each concert, night after night, was indescribable. It is bittersweet that our final tour will be in German, Denmark and Sweden this upcoming June. I know it will be the trip of a lifetime.
What did you learn about yourself in these past four years that surprised you?
I learned that I tend to take things too seriously. Whenever I can take a deep breath, take a step back and put what I am doing into perspective, I feel refreshed and rejuvenated.
How did you use your Augie Choice?
I used Augie Choice to help fund my trip to Europe with the Augustana Choir! Can't wait!
What will you miss the most?
Though I know life will go on after I leave Augustana, there is something truly unique about being a student on campus. The amount of time I have spent, the relationships I have formed, and the memories I have created with faculty and friends will stay with me forever.
Advice for the Class of 2019?
Don't take things too seriously. Of course, get your work done, but don't forget to play, too!
"Brian came to Augustana curious about everything. From day one, he was as equally enthusiastic about the required classes for his music education major and those he took as part of his liberal arts education. Brian spends a lot of time thinking about teaching, and his gentle manner helps draw out the best from even the most quiet or shy. How fortunate his future students will be to have Brian accompany them on the path of joyful learning!"