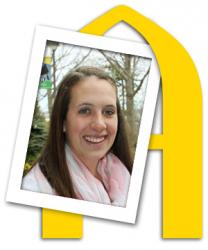 More Than I Imagined
Seniors reflect on accomplishments and look ahead
​Becca Sund
Graduation year: 2015
Majors: Mathematics, teaching mathematics
Minor: Spanish
Activities: Varsity track & field, varsity cross country, admissions ambassador, Big Brothers Big Sisters, math tutor, Phi Beta Kappa
Post-grad plans: Teach math at Muscatine High School in Iowa
Why did you choose Augustana?
I chose to attend Augie because I fell in love with campus and the feel of the school. I was intrigued by the small class sizes and the beautiful campus. Augie had everything I was looking for and felt right from the beginning.
Are you where you thought you'd be four years ago?
Not exactly. I came to Augie wanting to be a math education major and while that is what happened, I never thought the journey I took to get here would be the way it was. I never thought I would have created so many lifelong friendships and relationships with professors. I never thought I would be double-majoring with a minor. I never thought I would have studied abroad in Ecuador. But I am grateful to have had each and every experience that Augie has provided me and can't imagine my college experience any other way.
Who helped you get to where you are now?
My family and friends have probably had the biggest impact on who I am today. My family was never more than a phone call or a drive away, and my friends and teammates became my family here at Augie. I could not have gotten to where I am now without their love, support and guidance. I also would like to thank my track and cross country coaches, Fred Whiteside and Creston Fenn, for pushing me to never accept less than my best and to appreciate the little things in life.
A peak experience?
My peak experience at Augustana would have to be my student teaching experience. I learned so much about myself and the teacher I want to become as a part of this experience. I learned how to take what I learned in the classroom at Augie and apply it to students in a high school classroom. My co-operating teacher showed me what it truly meant to be a passionate and inspiring teacher, and for that I am forever grateful. But most importantly, I learned that just because you start teaching doesn't mean you stop learning. Because of my student teaching experience, I feel that I am better prepared to have my own classroom and make a difference in students' lives.
What did you learn about yourself in these past four years that surprised you?
I learned that I'm more adventurous and courageous than I thought I was. These past four years at Augie have provided me with opportunities to take risks, try new things and push myself beyond my limits. Before Augie, I don't think I would have taken advantage of these opportunities. But now, I've realized that some of the best experiences come from taking these risks and putting yourself out there.
How did you use your Augie Choice?
I used my Augie Choice to help pay for my study abroad experience in Ecuador.
What will you miss the most?
There's a lot that I will miss about Augustana. I will miss walking across campus in the fall, running along the Mississippi River and hanging out with friends in the Brew. But even more than that, I will miss having a close-knit community of peers and professors that were never more than a few minutes away. I will miss living a few feet away from my best friends and being able to walk down the street to any of my professors who always had their doors open.
Advice for the Class of 2019?
"People first, task second." This was a phrase I picked up while studying abroad in Ecuador, and I really think that it helped me focus on what was important in life. It's easy to get caught up in all the "to-do's" in a day, but remembering to put people first and focusing on the relationships you have with friends and professors will really help you make the most of your Augie experience.
"Becca has been a 'difference-maker' student-athlete during her time at Augustana, earning accolades for her outstanding work in the classroom and as a distance runner for our women's cross country and track programs. In addition to being named an Academic All-American, Becca is also a recipient of an NCAA Postgraduate Scholarship — two impressive awards that highlight her unique ability to achieve and shine with the nation's best!"