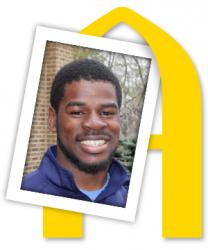 More Than I Imagined
Seniors reflect on accomplishments and look ahead
​Antonio Owens
Graduation year: 2015
Major: Business administration-management
Activities: Varsity football, varsity track and field
Post-grad plans: I'm applying to St. John's University to earn a master's in sports management while living in New York City.
Why did you choose Augustana?
I chose Augustana because as a student-athlete it seemed like the best fit for me to thrive academically and be a part of teams that are much bigger than myself. The college's numerous Academic All-Americans and great business program convinced me it was the exact type of learning institution I had been searching for.
Are you where you thought you'd be four years ago?
Coming into college I did not know what to expect or what opportunities my education would lead to. However, I am now in a position to be successful after graduating from Augustana.
Who helped you get to where you are now?
My family, friends, mentor, coaches and business professors have helped me get to where I am today. All these people have motivated me and taught me the necessary skills for pursuing a career in business and sports. I also have taken on a great deal of responsibility because of these people, and I have learned to work in teams and put forth my best effort 100 percent of the time.
A peak experience?
My peak experience was during my junior year when I took a management concepts course with Fred Smith. During that course, I finally realized what I wanted to do after I graduated. I enjoyed the coursework and the presentations for the course, which is rare for me to say, but it truly did help guide me to the perfect internship I earned in New York that upcoming summer and was the reason I declared (late) my major in business management. In addition to the academics, I was a part of a track team that finished fifth at nationals that year.
What did you learn about yourself in these past four years that surprised you?
I was surprised to learn that I left a good impression on professors that I had, which says a lot. I have spoken with several of my business professors recently this year about life after Augustana, and they informed me that they remembered me as shy, quiet and serious in the classroom during my early years of college, and now I am very charismatic, and that may be one of my best qualities.
How did you use your Augie Choice?
Unlike many students, I did not study abroad. Instead, I used my Augie Choice to help pay for the cost of living in New York City during my summer internship with the Staten Island Yankees, as well as the transportation while in New York.
What will you miss the most?
I will miss the entire faculty in both the Carver Center and the business department. I will also miss my track coaches and teammates the most. It has been a tremendous pleasure to be coached by Paul Olsen and visit Kathi Fox each day in the office. Dr. Gregory Tapis and Fred Smith have been some of the most influential and greatest educators I have encountered. Also, I can't forget to mention Dr. Marmé and Dr. Lonergan for being such happy souls and outstanding professors during my business stats terms.
Advice for the Class of 2019?
Enjoy your time at Augustana and make the most of your opportunities. Never settle for less than putting forth your best effort and be sure to build relationships with the staff, faculty and your professors because the Augustana community is filled with some of the greatest people you will not want to forget.
"Antonio is an excellent example of the successful student-athlete. He was able to balance the demands of the football season without sacrificing the quality of his coursework. I enjoyed having Antonio in class, as his contributions were always thoughtful and germane. His attention to detail, time-management skills, and ability to multi-task are skills that will carry him far in the corporate world."