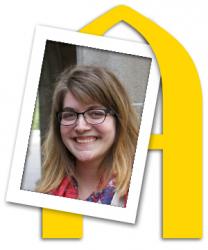 More Than I Imagined
Seniors reflect on accomplishments and look ahead
​Anna Moorhead
Graduation year: 2015
Major: Business administration-marketing and finance
Minor: Scandinavian studies
Activities: Sigma Alpha Iota, Business Club, Scandinavian Club, Dance Marathon, Phi Beta Delta, Campus Ministries, Percussion Ensemble
Post-grad plans: I am seeking work which has an impact internationally or through cross-cultural connections in the organization. I plan to use the skills I have developed in my coursework, internships and cross-cultural experiences to pursue positions in the non-profit, for-profit or higher education sectors.
Why did you choose Augustana?
I chose to attend Augustana because of the small class sizes, excellent academic and study abroad programs, and the beautiful campus.
Are you where you thought you'd be four years ago?
Nope! As a first-year, I was not completely sure what I wanted to major in, what type of career I wanted or what to get involved with on campus. Through the liberal arts coursework, study abroad experiences, internships and extracurricular activities, I have learned and experienced many things that have altered, developed and challenged my interests and passions
Who helped you get to where you are now?
My family, friends, faculty and supervisors have been very supportive and encouraging throughout my college career. From supporting me going overseas to interning in another state to determining what classes and organizations are a good fit, everyone has been helpful and supportive.
A peak experience?
There have been many peak experiences at Augustana during the last four years. One of my favorite experiences was studying abroad for six weeks in Ghana. During this time, we lived with Ghanaian families, had internships and class, and traveled around the country on the weekends. This experience was life-changing and opened my eyes to the realities of Ghana.
What did you learn about yourself in these past four years that surprised you?
Having the courage to step outside your comfort zone can lead to remarkable opportunities and experiences. During the last four years, I studied abroad in Ghana and Russia and went on an Alternative Pilgrimage to Israel and Palestine. These experiences shaped my perspective on real world issues.
How did you use your Augie Choice?
I used my Augie Choice to study abroad in Russia for two weeks.
What will you miss the most?
I will definitely miss all the people who make up the Augie community. I will also miss the campus events, living so close to friends and the beautiful campus!
Advice for the Class of 2019?
Have courage to say yes to new opportunities because you may discover a new interest, passion or discover something you didn't know before!
"Anna is well prepared to hit the ground running upon graduation. During her time at Augustana, Anna completed three different internships. She traveled to Russia, Ghana, Israel and Palestine, as well as other countries, and provided excellent leadership to many organizations on campus. Anna is ready to launch a very successful career. Best wishes upon your graduation, Anna!"