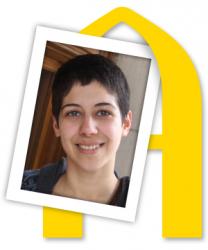 More Than I Imagined
Seniors reflect on accomplishments and look ahead
​Anissa Pemberton
Graduation year: 2015
Major: Political science
Minor: Anthropology
Activities: Concert Band, Fair Trade Augustana
Post-grad plans: Work as an office manager at the Salvation Army Family Services Shelter in Davenport, Iowa. After a year or so, I would like to move out of the Midwest, hopefully for graduate school or abroad.
Why did you choose to attend Augustana?
For me, my choice in applications for college were all at liberal arts institutions because of my determination to learn in a holistic environment. As well, I found Augustana was helpful in affording the next step in my education.
Are you where you thought you'd be four years ago?
No, I am not. When I first entered school, I was rather timid although I attempted to hide it. Throughout the first two years, my personal life was a top priority, but in the second half of college I was able to find my academic spirit.
Who helped you get to where you are now?
Although I knew I was fascinated by the humanities when I first entered college, I could not have foreseen the gift that the anthropology department was to me. Dr. Kaul and Dr. Hough have driven me academically in ways that will only improve my life after college, by encouraging the logical and clear spirit of each student in a social science that focuses on the emotional realities of the individual. I will leave college feeling much more driven for my own happiness as well as those around me.
Dr. Mariano, the chairperson for the political science department, has always been generous with his encouragement of intellectual clarity and growth. During our time in Brazil, Dr. Mariano, Rowen and Araceli were the calm heads in the chaos, and that definitely helped me enjoy the trip more.
A peak experience? How did you use Augie Choice?
I used my Augie Choice on my study abroad trip in Brazil, which was definitely the peak experience for me. Going on that trip made me take considerable note of how much I loved learning a different language and exploring a unique location and culture. My only regret was that the trip was not long enough. I would have loved to spend more time there.
What did you learn about yourself in these past four years that surprised you?
After studying so much social science, I began to notice how much ethnicity, gender, sexuality and class play a role in my everyday life. In many ways, while this may seem rather typical, I feel like it has allowed me to see my inconsistencies and unfair actions clearer, as well as others. Being self-reflective has begun to take over some of my down time, but it has allowed me to form better relationships.
What will you miss the most?
I will miss the people I met here.
Advice for the Class of 2019?
Don't accept what forms your identity blindly while you are in college. You will mess up, but just learn from your mistakes.
"Among her many strengths, Anissa is a natural leader. She was pivotal in resurrecting the student club Fair Trade Matters, giving it a visibility on campus that it hasn't had in years. She was also one of the student leaders on the fall 2014 study abroad program to Brazil, showing leadership skills typical in one much older."