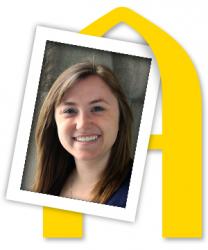 More Than I Imagined
Seniors reflect on accomplishments and look ahead
​Amber Dalgaard
Graduation year: 2015
Majors: Communication studies, psychology
Minor: Spanish
activities: Varsity volleyball, Delta Chi Theta sorority, Advertising Developers, EDGE Center
Post-grad plans: I have accepted a position as a customer experience coordinator for The Creative Group, Inc., a corporate event planning agency.
Why did you choose Augustana?
Augustana had opportunities no other school could offer. I was happy that I would be able to choose a major but still learn from and interact with individuals from all majors because of the liberal arts focus. I loved the atmosphere the campus had, the beautiful scenery and the many ways Augie seemed to go above and beyond for their students.
Are you where you thought you'd be four years ago?
No. I am way past where I thought I would be. I never would have guessed that I was going to see Ecuador, Malaysia and Panama. I would not have expected to have six amazing internships, join a sorority, get involved on campus while still playing volleyball, AND graduate a trimester early on top of that with a double major and minor. I have grown so much as a person and am more prepared than I ever thought I would be to enter the workforce.
Who helped you get to where you are now?
Honestly, every professor in both the psychology and communication studies departments care so much about every student and are so willing to help, it creates an amazing support system to do whatever you put your mind to. The professor whom I owe the most to is Doug Tschopp. Doug helped me figure out my career path when I made the decision to no longer go into education. He then dedicated so much time throughout these past four years to making sure I had the best opportunities possible to build experience that would set me apart after graduation. I have lost count of the amount of times I have wanted to give up at something and he has pushed me to do more. Doug has taught me more than I ever learned in the classroom through the ADs group and his many experiences. I would honestly be nowhere near where I am today without his guidance and support.
A peak experience?
I would have to say that this year's National Student Advertising Competition is one of the top. Augustana has participated for 14 years, and we have never placed. Our team worked really hard this year, and we ended up coming home with a third-place trophy, and I literally cried. It was an amazing feeling to hear our name announced after all of our hard work and after being in the group for four years.
How did you use your Augie Choice?
I used my Augie Choice to help fund my study abroad experience to Ecuador. It was a full immersion program for five weeks in the summer. I took classes to finish my minor in Spanish and lived with a host family to be fully immersed in the culture.
What will you miss the most?
I will miss all of the people I work with in the EDGE Center and CORE. Going from seeing these people almost every day for four years to no longer working with them will be extremely hard. Also, all of the easy opportunities to do fun and original things. From having an impromptu dance party on 2I in Westerlin to hearing about a color party about to happen in 10 minutes and running to the Quad with my roommate to join, I was never bored on campus and always had people willing to go on adventures with me.
Advice for the Class of 2019?
Find your niche and run with it. Don't worry about being a nerd or what your parents want or what you thought you wanted coming into college. Find something you are passionate about and own it. There is a group here who will support you. Find that group and don't look back. Augie is the place where you can truly develop who you want to be and do what you love. The only person who can stop you is yourself.
"I developed a real appreciation for Amber's capabilities during her civic engagement Senior Inquiry. Amber focused her project on the achievement gap, ultimately developing resource packets for children to improve school readiness. I was impressed by her thoroughness and attention to detail, and her ever-present energy and good cheer."