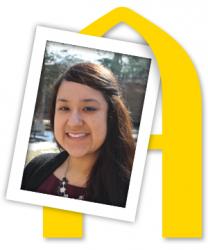 More Than I Imagined
Seniors reflect on accomplishments and look ahead
​Alejandra Campos
Graduation year: 2015
Majors: Business administration-marketing and management; Spanish for professional use
Activities: Chi Alpha Pi sorority, Business Club, Mortar Board, Office of Multicultural Student Life
Post-grad plans: I will be participating in the Disney College Program for six months. As for plans after the program, only time will tell.
Why did you choose to attend Augustana?
As cliché as it may sound, I chose Augustana because it felt like home. From the moment I stepped foot on the campus, I knew that this school was about to make an impression. By the time my tour had ended and I had learned about the small class sizes and endless opportunities, I knew that Augustana was the school for me. Looking back on these past four years, I cannot imagine myself anywhere else.
Are you where you thought you'd be four years ago?
Not at all. When I first enrolled at Augustana, I intended to major in psychology. One class into the major, I realized that it was not the right field of study for me. After taking Dr. Tapis' Management Concepts course, I knew that I wanted to pursue business management.
Who helped you get to where you are now?
I have many people to thank. First and foremost, my parents for encouraging me to follow my dreams and always supporting all of my endeavors even if they didn't necessarily agree with what I was doing. My Spanish advisor, Dr. Araceli Masterson, has had a big impact on my time at Augie. If it weren't for her, I would have never spent a semester in Spain. She not only encouraged me to pursue the program but also helped me through every step of the application process. I have been lucky to work for wonderful supervisors. Both past and current, they have all helped me grow both on a personal and professional level.
A peak experience?
My four-and-a-half-month study abroad program in Spain was by far a peak experience for me. It opened my eyes to what a wonderful world we live in. During my time abroad, I embarked on many adventures, met amazing people and took chances. I not only became immersed in the Spanish culture but also explored various countries. My travels were filled with unforgettable experiences, such as zip-lining from Spain into Portugal, riding a camel in Morocco, eating crepes by the Eiffel Tower in Paris and riding a trolley through the streets of Lisbon.
What did you learn about yourself in these past four years that surprised you?
I learned that I am capable of taking chances. Being the only Augustana student participating in the 2014 Spanish Studies Abroad Program was terrifying. A few weeks before my departure, I started to have second thoughts. I was going to a foreign country where I knew no one. As terrifying and nerve-wracking as the experience seemed at the time, I would do it again in a heartbeat!
How did you use your Augie Choice?
I used Augie Choice during my study abroad program in Seville, Spain.
What will you miss the most?
I will miss walking through the campus, the late-night talks in the library, competing in Homecoming competitions with my sorority — the list could go on and on. But more than anything, I will miss the people who I have shared these experiences with.
Advice for the Class of 2019?
Don't take the little things for granted. Go to bingo, walk on the slough path, spend an afternoon sitting in the quad or simply take a random class that is out of your major's curriculum just for fun. Make every moment count because these four years will fly, and it's the little things that you will remember the most.
"Alejandra's thirst for knowledge and desire to learn will help her immensely in the business world. Her ability to analyze complex topics is impressive, and her positive contributions to class discussions made the entire class think. I look forward to hearing from her as she progresses through her career."