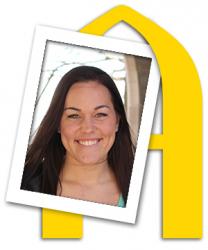 More Than I Imagined
Seniors reflect on accomplishments and look ahead
​Alana Dean
Graduation year: 2015
Major: Business administration
Activities: Vikettes Poms Squad, Mortar Board, Residence Housing Association, National Residence Hall Honorary
Post-grad plans: I will be opening my own performing arts studio in the Midwest.
Why did you choose Augustana?
I picked Augustana because it wasn't too far from home but still far enough to be like my own secret getaway. I loved everything about Augie but a huge part was the fact that it was trimester! The trimester system is a perfect way to take advantage of taking more classes outside of your major, which helps you get the real liberal arts feeling.
Are you where you thought you'd be four years ago?
I have always wanted to open my own business, but now that it is actually happening I still can't believe it. Augie helped me make my dream come true.
Who helped you get to where you are now?
My peers, professors and family helped by giving me constant support as well as pushing me past my comfort zone to accomplish my goals. A few professors that have forever changed my way of thinking and prepared me were Professor Marmé, Professor Weeks and Doug Tschopp. Each one has shown me a different way to think as well as supported my journey to open my business the whole way through my four years here at Augie.
A peak experience?
Studying abroad in Amsterdam. This experience forever changed my life because it taught me to take chances and get out of my comfort zone. I was also one of the first students to complete the new Entrepreneurial Certificate. I loved that this became available! It was a great addition to my experience here at Augie because it helped students like me who plan on being an entrepreneur for my career. I learned how to challenge myself and think in different ways to make sure that I was prepared for anything that came at me and my business.
What did you learn about yourself in these past four years that surprised you?
I am braver than I thought. I mean I knew that I wasn't a shy person, but I learned just how brave I could truly be. I held board positions my first two years in the Vikettes, and then I held the captain position for my last two years. Each year taught me something about myself and how I handle stress, people and dance itself. All of these experiences will help me with my future plans in and out of dance.
How did you use your Augie Choice?
I used my Augie Choice on my study abroad trip. I used it towards a weekend in Paris.
What will you miss the most?
I will miss the community the most.
Advice for the Class of 2019?
For the first years coming in, please do not be afraid to try as many things as possible. After your four years at Augie, your chances/opportunities will decrease, and you won't be able to get it back.
"Alana was the first student to come by the Entrepreneurial Center (EDGE) to complete the new Entrepreneurial Certificate. While talking with her it was clear she was also interested in many things we do in EDGE, so she decided to take full advantage and intern full time. She created a business plan for her studio, learned new skills and is ready to rock her new business!"