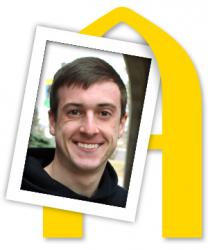 More Than I Imagined
Seniors reflect on accomplishments and look ahead
​Adam Populorum
Graduation year: 2015
Major: International business
Minors: Spanish, Chinese
Activities: Omicron Sigma Omicron fraternity, Augustana Chargers Soccer Club
Post-grad plans: I've been hired as a project manager and implementation consultant for Epic Systems in Madison, Wis.
Why did you choose to attend Augustana?
I chose Augie for multiple reasons, the first being their newfound international business major. With prior talent in two languages and plans to continue them both, I thought international business worked perfectly. Also, I learned about the Augie Choice grant of $2,000. Knowing I wanted to go abroad at some point, this fit in perfectly for me. Knowing Augustana had smaller class sizes was important because then I would have a better chance at knowing my professors on a more personal level.
Are you where you thought you'd be four years ago?
I am president of my fraternity, which is one thing I thought (and hoped) would happen in my four years here. But I thought it would have been much harder to find a job than it was for me. I applied to a lot of places and was asked by only one to go through the interview process, but I ended up getting the job.
Who helped you get to where you are now?
My parents were the most helpful people I could have ever imagined having during the first few years of my college and professional career. They were always available to help me sort things out when I was getting overwhelmed. They were never too busy to help me edit my résumé and cover letter, find companies and positions to apply to for internships, and help me prepare the countless things I needed to prepare for job interviews. I could not be more grateful.
A peak experience?
My trip to Brazil during fall term of senior year was definitely a peak experience. Between the simple change in scenery and our once-in-a-lifetime experiences, there was a lot to be grateful for and enjoy while there.
What did you learn about yourself in these past four years that surprised you?
I can handle a lot more schoolwork than I thought I could and be successful in the classroom, while still being able to manage a part-time job, high responsibilities in my fraternity and an active social life.
How did you use your Augie Choice?
I used it to help pay for tuition and travel when going to Brazil during fall term of my senior year.
What will you miss the most?
The people. Almost everyone has a positive attitude all the time, whether you know them or not, and people are so friendly in passing on campus and between classes.
Advice for the Class of 2019?
APPLY, APPLY, APPLY! Regardless of your major or field, it is never too early to start applying for internships, co-ops, shadow jobs, etc. It is so important to have as much professional experience related to your field as possible before looking for full-time opportunities because many companies will hire only those with professional experience before graduating.
"Adam is a shining star and great example of a student who made the most of his liberal arts and business classes at Augustana. He secured a Senior Inquiry Capstone internship in new product strategy at Abbott Labs. While on the internship, he synthesized large amounts of information to create and recommend marketing strategy for an international new product. Adam has a very bright future as he builds upon the firm foundation from Augustana."