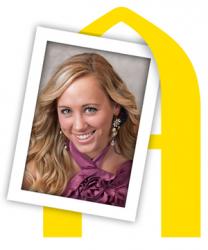 More Than I Imagined
Seniors reflect on accomplishments and look ahead
Taelar Hillyer
Graduation year: 2014
Majors: Secondary education, English
Minor: Communication studies
Activities: Varsity track and field (NCAA Division III qualifier), America Reads, Operation Read, Club Ed, Mortar Board National Honor Society, Chi Omega Gamma sorority
Post-grad plans: I will be teaching seventh and 10th-grade English language arts at Pella Middle and Pella High School in Pella, Iowa. I also will be an assistant coach for track and cheerleading, and I'm looking into coaching pole vault for Central College.
Why did you choose to attend Augustana?
I decided to attend Augustana after meeting with the education department faculty; it felt so welcoming and sounded like a successful program. I also worked with Augustana's pole vault coach, Chad Thomas, when I was in high school and decided I couldn't part with the program. Basically, all of my experiences with Augustana before confirming were memorable experiences with people who I knew I would develop meaningful relationships with versus being another body in a large lecture hall or on a Division I track team. 
Are you where you thought you'd be four years ago? 
Surprisingly, yes. I came in as an English education major, and I am leaving with a middle-school teaching job. Although I stayed on the same path, I have experienced so much more than I ever planned or thought possible during my career at Augustana. 
Who helped you get to where you are now?
I am so blessed to have a close family. Being from the Quad City area I have also been lucky enough to have the college experience and keep that close connection to my family. They have helped me accomplish all the academic and athletic successes I have had in my life, especially during my time here at Augie. I have also been lucky to have an amazing support system in my track coaches. They have helped me balance the stress of college and being a college athlete. After the past four years, I consider them to be more than just my coaches; they're my family.
A peak experience?
I'd consider my qualification to the NCAA DIII National Championships one of my peak experiences here at Augustana. I just competed in my third national meet and am getting ready to try and qualify for a fourth. This past national meet, however, was a huge milestone for me after coming back from a highly invasive correctional surgery on both my calves at the beginning of the school year.  
What did you learn about yourself in these past four years that surprised you? 
I learned I have the ability to handle so much more than I ever thought I could. I have had to take credit overloads, train to be a national track competitor, be involved in extra-curriculars, balance teaching clinical hours, and work two jobs. I was able to do all of this and leave feeling like I can literally take on anything. Being a first-year teacher of two grades and a track coach, I know learning this is going to help me be the best teacher I can be. 
How did you use your Augie Choice?
I went to Jamaica and taught PE at an all-boys orphanage in downtown Kingston and explored the Jamaican lifestyle and culture during Christmas break my junior year. 
What will you miss the most?
I know I am going to miss being in track; I am going to miss all my coaches who I talk to daily and being in the competitive atmosphere. I will miss the education department as well. I have always loved being able to stop and talk to my professors to share my concerns and my successes. All of these people I have seen daily for four years here. Without them I would not be the person I am today. I know I will miss them all.
Advice for the Class of 2018?
Take advantage of all the opportunities and take time to develop relationships with the faculty. Those relationships will make your college experience that much more meaningful.
"I'd say that Taelar has one speed! Full speed ahead. She used to work in my office. I thought I had given her about three hours worth of work, and it seemed as though she got it done in three minutes! And she always seemed to be working on more than one project at a time. She could be working on an essay, planning her education observation hours and looking at her pole vault workout for the week. Coach Ron Standley and Coach Chad Thomas have supported her during all her four years at Augustana, on and off the field."