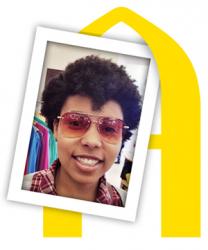 More Than I Imagined
Seniors reflect on accomplishments and look ahead
Simone Roby
Graduation year: 2014
Majors: Psychology, women's and gender studies
Minor: Anthropology
Activities: Black Student Union, Epsilon Sigma Alpha (ESA) service sorority, Big Brothers Big Sisters
Post-grad plans: I will begin a Ph.D. program in counseling psychology at Southern Illinois University-Carbondale!
Why did you choose to attend Augustana?
I chose Augustana because I felt like it would meet my academic, financial and extra-curricular needs. I knew this school would allow me to learn from different disciplines and get involved in a number of groups surrounding my interests. I was also drawn to the small class sizes and individual attention from professors. Other than those aspects, I thought the campus was beautiful!
Are you where you thought you'd be four years ago? 
Not at all! The only thing I expected coming into Augustana was that I would leave with a degree in psychology and (hopefully) a few good friends. I didn't realize that I would have the academic, professional and personal experiences that have allowed me to lead others (in multiple student groups) and develop/explore my interests. I also would not have expected my growth in social awareness or aspirations to become a lifelong learner.
Who helped you get to where you are now?
I've been able to get to where I am now because of the generous support I've received from people all over this campus! My psychology advisor, Dr. Ruth Ann Johnson, and fall term LSFY instructor Farah Marklevits have been there for me from the beginning. They've helped me stay on track academically and learn about myself and my interests. We've also shared some meaningful moments and great laughs! The Psychology Department has provided me with professional opportunities to explore my interests and modeled the types of psychologists I hope to become and work with in the future. I'm also very grateful for the women's and gender studies faculty for helping me through a lot of personal growth. Formal and informal discussion with them has helped me understand where I stand and how I can make a difference! In addition, the Reading and Writing Center (RWC) faculty and peer tutors have made my workplace feel like one of the most welcoming and friendly spots on campus. It's been an irreplaceable source of comfort, support and engaging conversation. Thank you tutor family! Lastly, the support, friendship and guidance of my ESA Sisters and Black Student Union members have helped me develop so much self-confidence and group pride!
A peak experience?
One of my favorite parts about my time at Augustana has been developing meaningful relationships with the people I spend a lot of time with, either through work, research or student organizations. Thus, my favorite moments have been those long, spontaneous discussions that happen while "constructing" a cardboard boat for homecoming in the Black Culture House at 1 a.m. or between meetings with tutees at the RWC, for example. Just getting to know the amazing people here at Augustana has been the best part of my experience!
What did you learn about yourself in these past four years that surprised you? 
I've learned that I love to learn! I've never been the biggest fan of homework, exams or papers, but I've had a lot of fun being challenged by new ideas and materials during my time here. I've surprisingly come to love the feeling of "stretching my brain," and I hope to continue this stretching throughout my life.
How did you use your Augie Choice?
I used Augie Choice to finance my study abroad trip to Guatemala this spring break. It was a very emotionally invigorating and thought-provoking experience!
What will you miss the most?
I will miss the opportunity to do so many different things at the same time. Throughout my experience at Augustana I've been able to take many different courses, meet all kinds of people and be involved in a number of groups!
Advice for the Class of 2018?
Don't be afraid to get to know your peers and professors. Get involved. Augustana provides an amazing environment for exploring your interests and making connections that could benefit you in the future!
"Simone hit the ground running and never stopped! She knew the major she wanted (psychology), but discovered additional interests and quickly added two minors. In her senior year, she realized her credits in women and gender studies were almost enough for a major, so she went for it — despite needing to complete a second Senior Inquiry. With the breadth of her coursework and co-curricular activities, Simone epitomizes the intellectually inquisitive, socially aware liberal arts student. And she's a great person to boot!"