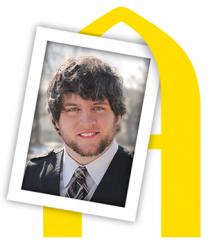 More Than I Imagined
Seniors reflect on accomplishments and look ahead
Scott Hale
Graduation year: 2014
Major: Political science-pre-law
Minor: Sociology
Activities: Student Government Association, Rugby Club, Omicron Sigma Omicron fraternity, Politics Club, National Residence Hall Honorary, Model United Nations
Post-grad plans: I will attend Marquette University law school in the fall.
Why did you choose to attend Augustana?
I decided to pursue a law degree prior to receiving my undergrad degree, and Augustana offered the pre-law program that I felt was going to best prepare me for graduate school. Augustana also offered favorable class sizes where I could get a quality education working closely with professors, while also presenting various opportunities to travel. I was also drawn to the fact that Augie has a strong sense of community.
Are you where you thought you'd be four years ago?
Absolutely. When I entered here as a freshman, I knew that I wanted to become a lawyer. My education at Augustana has helped me develop writing and analytical skills that I believe transferred into a LSAT score that has helped me receive admittance to many of my top school choices. 
Who helped you get to where you are now?
I owe thanks to everyone who has been a part of my academic experience. I especially appreciate my family, friends and my wonderful girlfriend, Molly, for being a fantastic support system along the way. Without them, I would definitely not be where I am today. I also owe thanks to Dr. Weissburg and Dr. Magalhães in the political science department. They have been extremely influential and inspirational in helping me develop my upper-level research. They both have pushed and challenged me to reach my academic potential. It has been a pleasure to learn from each of them over the past four years.
A peak experience?
My peak experience was spending a term abroad in Brazil led by Dr. Magalhães. It was amazing to experience the history and culture of the country firsthand. I was also able to better understand and visualize stories my father had told from his childhood living in Brazil. From trying new foods to exploring Rio and enjoying carnival, I was able to build relationships and memories that will last a lifetime.
What did you learn about yourself in these past four years that surprised you?
I have been surprised with how well I have been able to stay on track while pursuing my goals. I have learned that I need to set my goals even higher; and with hard work and dedication, I can achieve anything I set my mind to.
How did you use your Augie Choice?
I used my Augie Choice to work with Dr. Weissburg as a research assistant in the summer and fall of my junior year. It was an excellent experience that helped to lay the foundation for my senior research.
What will you miss the most?
I will definitely miss the community here at Augie. I have made many friendships with great people. 
Advice for the Class of 2018?
Get involved, keep an open mind, and check out an event or club that you know nothing about! Also take advantage of every opportunity you get to travel.
"I've met a lot of amazing students over the years, but I don't think I've ever met anyone — inside the classroom or outside of it — with as much heart as Scott Hale. He's smart, yes, but he isn't JUST smart. He genuinely cares about how the world works and how it can be made to work better. He's not looking for a simple answer that he can regurgitate back on a test. The main things that stand out about Scott are his personal integrity and his compassion. I don't think I've ever met anyone who cares so much about the people around him."