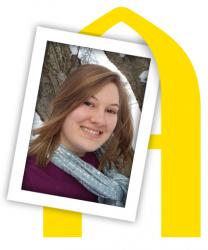 More Than I Imagined
Seniors reflect on accomplishments and look ahead
Sarah Martin
Graduation year: 2014
Major: Biology-pre-medicine
Activities: Varsity sports statistician, intramural athletics official
Post-grad plans: I have been accepted to DePaul University's Master's Entry to Nursing Practice in Chicago. After that, I plan to pursue a doctorate education for a career as a nurse practitioner in my hometown.
Why did you choose to attend Augustana?
I wanted a college that offered a challenging curriculum that I would work hard for and be proud of. The professors push students to become independent in a way that students can think about life, culture, communication, education and much more.
Are you where you thought you'd be four years ago?
I am exactly where I thought I would be. I may not be following my plan step for step, but when considering my maturity, professionalism, values and determination to succeed, I am exactly where I predicted. I always saw myself in a position of leadership, using the skills I gain throughout my career on a daily basis, and nursing will provide all these opportunities.
Who helped you get to where you are now?
I would not be where I am today without the support and encouragement of my advisors and professors. These individuals gave me the confidence to work hard and ask for help when I struggled. They were always available for advice, inspired me to always produce my best work, and helped me set high goals for myself and achieve them.
A peak experience?
The proudest moment of my college career was my Senior Inquiry proposal. It was my chance to prove to myself that my time at Augustana was a success. The project incorporated everything that I had been working so hard to master, including immunology, anatomy, physiology, microbiology, chemistry and physics. It was my opportunity to showcase my knowledge and finally be recognized for my efforts as a maturing biologist.
What did you learn about yourself in these past four years that surprised you?
I am very resilient. No matter how hard things got or how much I struggled, I always pulled through and reset my focus on what really mattered. I learned that I never shy away from an opportunity to learn because I truly do embrace the liberal arts education. An education should be filled with more than technical skill and memorization of facts, and I am very appreciative that Augustana values this type of education.
How did you use your Augie Choice?
My Augie Choice was budgeted throughout my first internship to purchase appropriate attire, supply gas money for the daily drive to the facility, and as wage compensation for the inability to work throughout the term.
What will you miss the most?
After graduation, I will miss the comforting walls of the science building, the guidance of faculty and friends, and mostly, the ability to focus on my studies in a non-stressful environment. Augustana does its best to allow students to focus on their schoolwork without the responsibilities of finding an apartment straight out of high school or having to learn to cook on their own and budget for groceries. This school's goal is to allow students to grow on their own time, at their own pace. So cherish and make the most of that time.
Advice for the Class of 2018?
The most important thing you can do in college is to take something, anything, out of each and every single class. Even if you hated the class and are glad it is over, at least appreciate the values the professor tried to portray. Even if all you get out of it is learning how to study or a new method for finding research articles. College is more than facts because facts can (and will) change over time; it is the skills you gain that can take you through life that really matter (learning how to find information, developing a study schedule for yourself, making and keeping personal goals for yourself). Keep your head up, and push through because Augustana believes in you and your ability to grow, and so should you.
"The first few adjectives that come to mind when I think of Sarah are inquisitive and detail-oriented. While any student can 'put two and two together,' Sarah will be the one to remember to include the units and already be considering possible ramifications of the combination! While she could pursue a career in biomedical research, Sarah knows that the human side of health care is what interests her the most and the holistic mode of care involved in nursing is the best fit for her. I feel Sarah's respect of human differences and shortcomings will make her one of those nurses to whom patients readily become attached."