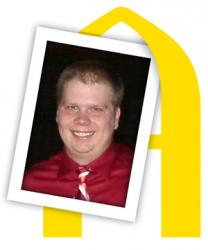 More Than I Imagined
Seniors reflect on accomplishments and look ahead
Paul Kleinhans-Schulz
Graduation year: 2014
Major: Business administration-marketing
Minor: Psychology
Activities: Business Club, Observer student-run newspaper, WAUG student-run radio station
Post-grad plans: Account executive with the Quad Cities River Bandits
Why did you choose to attend Augustana?
It is a well-respected school that was far enough away from home for me to explore places that I have not had any experience with but close enough where I didn't feel isolated. Also, I felt that Augie would be a great place where I could develop my academic skills outside of just growing in my knowledge of the business world.
Are you where you thought you'd be four years ago? 
Yes, but not by the path that I thought I would take to get there. I did not expect to be able to get so much experience in and out of the classroom that would be in a variety of different fields and departments. Overall, I worked harder and learned a lot more on my path to get to where I am than what I thought would.
Who helped you get to where you are now?
Karen Petersen especially helped me realize the amount of work that I would need to do to help me get to where I am. Also, Mrs. Marmé, my advisor, was a big help in setting my path in the right direction. I need to give credit to all of my former mentors at my past internships, Dan Corbin in Waterloo, Shane Huff in Davenport, Michael Beaumont in Sydney, Scott Wilson in Cedar Rapids, and everyone else who has helped with my professional growth.
A peak experience? 
My peak experience was the Australia program by far. It was so much fun to be in a place of the world that I did not think I would make it to...while being surrounded by some of the best people I have ever spent time with...while getting work experience. It was a once-in-a-lifetime opportunity that I reflect upon every single day.
What did you learn about yourself in these past four years that surprised you? 
That I can effectively use my time wisely in order to succeed with my school and work lives while continuing to have a fun social life. I knew that time management was going to be something that I would grow in college, but I did not expect it to happen to this large of an extent.
How did you use your Augie Choice?
I used my Augie Choice for the Australia Program.
What will you miss the most?
The friends that I made along the way and the professors that I spent countless hours conversing with in and out of the classroom.
Advice for the Class of 2018?
1) Go to class. It doesn't matter if you sleep through most of it; you'll at least learn something that you wouldn't have if you stayed home. 2) Be friends with the professors you'll be dealing with. They will help you in professional development so much, and they can help you reach heights that you cannot reach on your own. 3) Network, network, network. Makes searching for internships and jobs so much easier.
"Paul Kleinhans-Schulz brings enthusiasm and passion into anything he leads on campus. As the president of Beta Upsilon Sigma, he ensured great programming for the student organization. Business trips planned to Chicago, St. Louis and Milwaukee were second to none. His experience within sports business grew as he completed four internships with different teams and sports associations, including a strategic sports internship in Sydney, Australia. Paul excelled both inside and outside of the classroom, and I look forward to following his path as a leader within the sports business world."