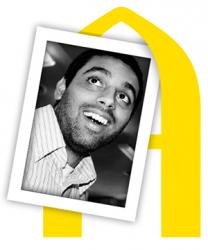 More Than I Imagined
Seniors reflect on accomplishments and look ahead
Paras Sethi
Graduation year: 2014
Major: Biology-pre-nursing
Minor: Psychology
Activities: Residential Life Community Advisor, Fair Trade Club, Chi Alpha Pi (honorary Cutie), UNYK Multicultural Dance Company
Post-grad plans: Attend Trinity College of Nursing & Health Sciences' accelerated nursing program to get my BSN (Bachelor of Science in Nursing). After that...wherever life takes me.
Why did you choose to attend Augustana?
I always wanted to attend a big school. However, my high school chemistry teacher, an Augie alum, suggested I give Augustana a visit. It was love at first sight. Yes kiddos, love at first sight does exist! I know it's not all about appearance, but Augie's good looks sure did attract me. The beauty of the campus was hard to resist — from the trees starting to change color in the fall, giving indications of dreary snowy winter ahead, to the first blooming flower in the spring. But looks aside, I also loved the small class sizes and the opportunity to get to know my professors. This was great, as the professors showed interest in getting to know me better not only as a student but also as a person.
Are you where you thought you'd be four years ago? 
No. Not at all. I am at a much better place than I thought I would be four years ago.
Who helped you get to where you are now?
My mom and my sisters for accommodating my financially expensive, but life-changing, experience. My uncle and aunt for providing me the opportunity to get a good college education. Lastly, my lifelong friends (both faculty and fellow students) who have challenged me and supported me to reach my maximum potential.
A peak experience?
My peak experience at Augustana was doing an internship in India learning about transcultural public health and health care access. This internship confirmed that I was in the right major and career path. This experience also encouraged me to travel and possibly work abroad at some point in my life.
What did you learn about yourself in these past four years that surprised you? 
I've learned to sit down, buckle up and enjoy every single moment of this roller coaster of a life.
How did you use your Augie Choice?
I used my Augie choice to study abroad in India. My amazing advisor helped me create an independent study leading to my internship in India.
What will you miss the most?
I am going to miss this close-knit Augie community that easily fills your darkest day with sunshine.
Advice for the Class of 2018?
Get to know your professors, custodians, lunch ladies and peers. They are all amazing people filled with great wisdom and big hearts. That being said, don't be afraid to step out of your own perspective, and look at things from a different view. I promise you, it will paint a completely different picture. Treat. Yo. Self. At least once a term. After all of the hard work you put in, you deserve a getaway weekend to the Bahamas... or just down the street to Whitey's. Your pick. Lastly, don't regret your past mistakes. Instead, reflect, learn and try not to make the same mistake twice. Also, forgive others.
"In fall 2012, Paras told me that he'd have an opportunity to work in a hospital in India during spring break 2013 so I helped him arrange an internship to explore how nursing careers varied between the two cultures. I was impressed with his ability to go abroad and study alone — but I was not at all surprised at the passion and compassion reflected in his journal and final reflective essay. I imagine one day Paras will be leading a team of nurses to a developing country to provide basic healthcare and health education to those in need."