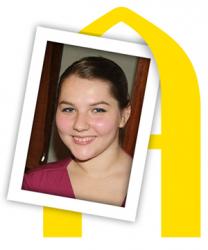 More Than I Imagined
Seniors reflect on accomplishments and look ahead
Natalie Viscariello
Graduation year: 2014
Majors: Physics, applied mathematics
Activities: Augustana Physics and Engineering Society, Sigma Alpha Iota music fraternity, Jenny Lind Vocal Ensemble, Omicron Delta Kappa leadership honor society, Sigma Xi research society
Post-grad plans: I am going to University of Wisconsin-Madison to earn my Ph.D. in medical physics.
Why did you choose to attend Augustana?
I knew that I wanted to attend a school that would allow me to explore all my different interest and potential majors. The campus was beautiful and charming as well.
Are you where you thought you'd be four years ago?
When I came into Augustana, I thought I wanted to study German, biology or maybe physics. I definitely didn't expect to be going to graduate school in medical physics, but my time here helped me find my passion. I've made lifelong friends, and I've had great opportunities. I'm in a much more exciting place than I thought I would be.
Who helped you get to where you are now?
All of my professors and friends have given me opportunities and support throughout my time here. They've helped me to become a better person and a better thinker.
A peak experience?
Last summer I participated in the Texas Medical Center Research Internship Program. Houston was a great city, and I made a lot of friends from all over the country. It was amazing to work in such a world-renowned institution.
What did you learn about yourself in these past four years that surprised you?
I've learned to be more confident in my ideas and that I can actually be an effective leader. I've learned that I can handle a lot, academically or otherwise, and still be able to pull it off.
How did you use your Augie Choice?
I used my Augie Choice to fund my internship at the Texas Medical Center.
What will you miss the most?
I will miss being in such close proximity to all my friends, and all the endless opportunities to explore my interests here.
Advice for the Class of 2018?
Do as much as you can to challenge yourself. Take advantage of the many things to do here. Don't be afraid to engage someone who holds different beliefs and assumptions than you. You will come out with a better understanding of yourself and them.
"Natalie is one of the most capable and diligent students I know. She is a great student, but her accomplishments in internships and leadership positions outside of the classroom is even more impressive. She has presented research at national conferences and provided indispensable leadership as president of the Augustana Physics and Engineering Society. It has been a privilege to witness her accomplishments and to watch her find her passion to study medical physics. I can only hope that each student takes as much out of each experience as she has."