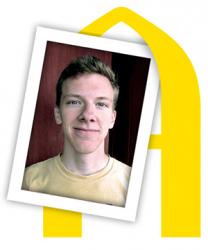 More Than I Imagined
Seniors reflect on accomplishments and look ahead
Matt Pawlowski
Graduation year: 2014
Majors: Biology and environmental studies
Minor: Biochemistry
Activities: Farm2Fork, Augie Acres
Post-grad plans: I will be pursuing a master's in integrated biosciences at the University of Minnesota Duluth. Ultimately, I hope to have a job related to aquatic biology and water resources.
Why did you choose to attend Augustana?
Augustana is well-known for academics, especially in the sciences. Augustana also offers a variety of handsome scholarships. Additionally, the rumors surrounding the beauty of Augustana's campus are true.
Are you where you thought you'd be four years ago? 
Not at all. I always anticipated studying biology but thought this would lead to a career in health care. I come from a family of dentists and after freshman year was accepted into a coordinated program that would have allowed me to enter dental school early. Because I am stubborn, it took me until junior year to accept that my true passion lies in environmental issues.
Who helped you get to where you are now?
I have had more than my share of inspirational professors at Augustana. I started to seriously consider careers related to the environment because of my learning community with Drs. Peters and Mahaffey. Many of the biology and geography professors have also gone out of their way to help and advise me. I have also received a lot of insight and encouragement from peers at Augustana and at summer jobs.
A peak experience?
One peak experience I've had was the field trip I took in Water Resource Management with Dr. Heine. On this trip, we boated down more than 50 miles of the Mississippi to get a feel for the water resource issues around the Quad Cities. This field trip immediately followed my water resource internship in Minnesota and was a great opportunity to apply concepts from one place to another. There is also nothing quite like traveling on a river as great as the Mississippi. It turns out Mark Twain wasn't wrong after all.
What did you learn about yourself in these past four years that surprised you? 
I have learned that I am increasingly willing to step out of my comfort zone. I have also been surprised by my ability to balance schoolwork with social and extracurricular activities.
How did you use your Augie Choice?
I used Augie Choice to help pay rent in Rock Island while I was away for my summer internship.
What will you miss the most?
I have come to love the Quad Cities. I will miss walks along the Mississippi, live music at Rozz-Tox and the view of the Centennial Bridge at night. I will also miss planting and harvesting at Augie Acres. Obviously I should mention the close friends I have made in the last four years, too.
Advice for the Class of 2018?
Going to college with an open mind and a willingness to try new things is indeed important. However, it is a cliché to tell others to be open-minded because this is something that all people (more or less) have to realize on their own. Because this is up to you, here are two pieces of advice that I think are actually useful. For one, I think all students should find an internship or some kind of research experience. There is a lot to be learned in the real world. Secondly, I would advise taking as many classes that involve field trips as possible. I wish I had taken more of such classes. Many of the most important things cannot be learned in a classroom, and any hands-on experience is more enjoyable than staring at a chalkboard or PowerPoint.
"Matt loves ideas, and is quick to connect what is learned in the classroom to the rest of his knowledge. I also have discovered that he has the drive, energy and thirst for knowledge that it takes to be a successful scientist. Whether the task is understanding a complex piece of ecological theory or chipping through the November ice to deploy bags of leaves for an experiment, he is the best kind of ecologist to have around. He loves nature and has the drive and patience needed to spend a lifetime trying to understand nature."