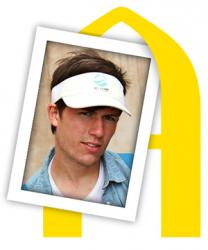 More Than I Imagined
Seniors reflect on accomplishments and look ahead
Matt Osman
Graduation year: 2014
Major: Geology
Minors: Mathematics, environmental studies
Activities: Omicron Delta Kappa, Augie Jazz Ensemble and Jazz Combo, Gospel Choir, Udden Geology Club, Sigma Gamma Epsilon, Farm2Fork, "Let's Rock!" Teaching Program
Post-grad plans: Pursue a Ph.D. in glaciology/climatology at the Massachusetts Institute of Technology (MIT) – Woods Hole Oceanographic Institute Joint Program
Why did you choose to attend Augustana?
I've always been afraid of becoming another face in the crowd, and at Augie I didn't feel like I would succumb to such. I also instantly fell in love with the Quad Cities. It's really a hidden Midwestern gem.
Are you where you thought you'd be four years ago? 
No. I wasn't particularly academically oriented throughout high school, and STEM subjects were not my forté. In fact, I only enrolled in Geology 101 fall term of freshman year at random after spooking myself out of taking calculus. Now, four years later, I'm graduating with degrees in both geology and math and am set to attend one of the world's foremost scientific research institutions! Who'da thunk it?
Who helped you get to where you are now?
The funny thing about Augie is that everyone here seems to be collectively trying their hardest to push you forward. The geology department seems to be particularly good at this. More than anyone else, I credit Dr. Wolf and Dr. Strasser with instilling in me a deep curiosity and nerdiness for the sciences, and I am indebted to them for their ardent care and commitment.
A peak experience? 
Hmm. Decidedly an unanswerable question...though reaching the peak of Japan's Mt. Fuji this past fall was pretty neat (East Asia Term, 2013).
What did you learn about yourself in these past four years that surprised you? 
There are only 24 hours in a day, and you can't do everything...but with a little coffee and a dedicated outlook you can certainly try.
How did you use your Augie Choice?
I spent the summer after my sophomore year living for two months on an Alaskan glacier as a student-researcher with the Juneau Icefield Research Program. Augie Choice helped fund some of the hefty logistical/equipment costs necessary for such an environment.
What will you miss the most?
Friends. The geoscience building. Cute black squirrels. The quad in the fall. The quad in the winter. The quad in the spring. Late-night bike rides through the Quad Cities. Jazzing out in Bergie. Weekend climbing trips. Brian Konecke's homemade chili.
Advice for the Class of 2018?
Never again will you be given four years to live with your best friends, be immature and rambunctious without being judged too harshly for it, and have the opportunity to learn crazy, eclectic things such as Swedish, differential equations and East Asian religious philosophy all in the confines of a single day. My advice: Work hard, study hard and play hard, but don't take for granted how privileged you are.
"Matt is energetic, enthusiastic, amicable, ambitious, diligent, highly intelligent, hard-working and adventuresome. All of these traits have helped him take full advantage of the Augustana experience and education. Whether he's rock climbing the walls of the Grand Canyon to get a better look at the stratigraphy, snow-shoeing the alpine glaciers of Alaska to collect and analyze isotopic data from ice samples, or sampling climate-changing methane leaking from high Arctic Swedish lakes, Matt's adventurous spirit enables him to tackle challenges with eagerness, optimism and determination. I look forward to seeing what successes Matt will create for himself after Augustana."