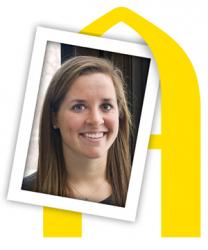 More Than I Imagined
Seniors reflect on accomplishments and look ahead
Maggie Hoscheit
Graduation year: 2014
Major: Biology-pre-dentistry
Minor: Biochemistry
Activities: Varsity soccer (Academic All-American 2012, 2013; NCAA Postgraduate Scholarship), Delta Chi Theta sorority, Order of Omega Greek Leadership Society, National Society for Leadership and Success, Student Athletic Advisory Committee, Athletes Giving Back
Post-grad plans: Attend Southern Illinois University School of Dental Medicine
Why did you choose to attend Augustana?
The first time I visited, I was overwhelmed by the positivity spread all across campus. From admissions to the athletic department, each person I met had a host of great things to say about the Augustana experience. After learning about the exceptional science department, successful women's soccer program and dense campus environment, it struck me that Augustana is a very special place. It seemed as if there were endless opportunities to grow as an individual here, and I couldn't pass up the chance to become a part of it.
Are you where you thought you'd be four years ago? 
My time here has exceeded any and all expectations that I had four years ago. I am much more prepared for life after graduation than I thought I would be, and am very anxious to pursue my career. I've met and formed lasting relationships with a myriad of wonderful people, and my list of experiences is deeper and more meaningful than I could have ever imagined.
Who helped you get to where you are now?
Staying strong in my faith has been the keystone of my progression. Aside from that, the unwavering support from my family has given me a very full college experience, and has allowed me to choose the career path that is right for me. My professors have amply prepared me for graduate school and simultaneously introduced me to opportunities that I never knew existed. Finally, my friends, teammates and coaches have consistently pushed me to be the best person I can be, and they are the day-to-day reasons why I have thoroughly enjoyed my time here.
A peak experience? 
I'm incredibly fortunate to have multiple peak experiences. Traveling across Europe with my team in the summer of 2011 is definitely something that will stay with me forever. Winning conference in fall 2013 and our three trips to the NCAA tournament are all peaks of my athletic career, as it was always exciting to see that our hard work paid off as we reached our goals as a team. Helping organize the Payne in the ALS 5K run in spring 2012 was also a high point, as it showed me how powerful two people's desires to give can be. Helping that group of girls put together a successful fund-raiser was very rewarding, and it fueled my interest to serve the needy through mission trips across the country.
What did you learn about yourself in these past four years that surprised you? 
A lot. The most noteworthy things would probably be how much I enjoy taking advantage of unforeseen opportunities, and how I thrive off of living a very busy lifestyle. Making the most out of each day has proven to be very rewarding.
How did you use your Augie Choice?
I used my Augie Choice to supplement an unpaid shadowing internship at Riverside Dentistry in Moline. It was an invaluable experience from which I learned an incredible amount about dentistry, and it made me very confident and excited about my career choice.
What will you miss the most?
I'm really going to miss my teammates and being a part of something so much bigger than myself. I'm also going to miss the tight-knit "community" feel that is spread throughout campus, as I know that it is something very special and unique to Augustana.
Advice for the Class of 2018?
Don't hesitate to fully immerse yourself in your interests here, but make an effort to step out of your comfort zone and try something new. Keep an open mind to meeting and befriending people who are quite different from you. These new experiences and relationships often teach you the most valuable lessons about yourself and others, and will continue to inspire you to grow as an individual.
"Maggie is one of those students who has mastered the ability to juggle not only her academics, but also her performance on the field. It takes dedication to both her studies and her sport. She is able to accomplish all this and remain human. She also makes time to help other students through tutoring and mentoring them in the classroom and on/off the field."