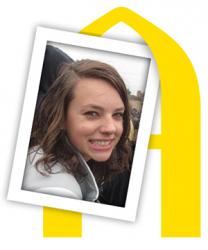 More Than I Imagined
Seniors reflect on accomplishments and look ahead
Lauren Hoffman
Graduation year: 2014
Major: Biology
Minor: Physics
Activities: Varsity track and field, Sports Medicine Club
Post-grad plans: Attend Northwestern University to earn my master's in prosthetics and orthotics
Why did you choose to attend Augustana?
Before Augustana, I attended Purdue. I realized that it was too big for me, and I didn't feel that I was getting the most out of my education. Augustana had always been my other choice, and I decided to give it another look. I'm happy I did!
Are you where you thought you'd be four years ago? 
Not at all. I thought I would go to Purdue for four years and come out with a major in dietetics. I didn't think I'd ever change my major (wrong about that three times), and I didn't think I'd be pursuing O&P (orthotics and prosthetics).
Who helped you get to where you are now?
First and foremost, my parents. They've supported me unwaveringly throughout my college journey. My friends and my coaches and teammates in track push me to be both a better athlete and a better person each and every day. Finally, my professors have helped prepare me for school beyond Augustana. Whether it is staying to help even after office hours are over or helping you understand how to solve a partial derivative for the fifth time, they genuinely want their students to succeed.
A peak experience?
How can I choose! I've had the opportunity to travel all over the country by being on a team, and I've been involved in a lot of cool events. Just this past year, I got to help Girl Scouts learn different events in track through SAAC (Student Athletes Advisory Committee), ran in a relay in the Quad Cities Marathon with the cross country team, and I traveled to Springfield with my learning community where I saw some of the wildest medical equipment used in the Civil War. I got to do all of this with my friends and that made it awesome.
What did you learn about yourself in these past four years that surprised you? 
I'm braver than I believe and smarter than I think. I was terrified going through the transfer process. I was comfortable with Purdue and was afraid of losing what I'd built. However, I didn't want to just be OK with where I was and I made the switch to Augie. It's a decision I will never regret. As for part two of my Winnie the Pooh quote, I was so intimidated by physics after the first week of class that I didn't think I would be smart enough to earn a minor amidst the physics majors. Yet here I am taking my final two physics credits because my professors helped me see my potential. I learned that with a lot of help and perseverance, success is all but impossible.
How did you use your Augie Choice?
I used it for my internship at Hanger Clinic. It helped take a chunk out of my travel costs, and I was able to use it as a stipend since my internship was unpaid.
What will you miss the most?
Being around my friends and my teammates every day, the independence and opportunities available at a small college, my biology and physics professors, my track coaches, and working in Sports Medicine with D and Anna and all of my friends.
Advice for the Class of 2018?
Do what makes you happy and challenge yourself to try something new. This is the only time in your life where you can do crazy things like learn theater stage combat or travel all-expenses-paid across the country with friends and teammates. Work hard now so you can have fun later. Also, if you're pursuing a career in physical therapy or orthopedics, join Sports Med. It will help you exponentially.
"What an adventure it has been advising Lauren in her time at Augie! Lauren embraces challenges wholeheartedly and makes life choices with impressive determination, inspiring curiosity and a sincere desire to advance the quality of lives of others through prosthesis research and rehabilitation. She holds more wisdom than her age would immediately credit her with, and I expect that the daily lives of many will benefit from her intellect, skills and radiant kindness."