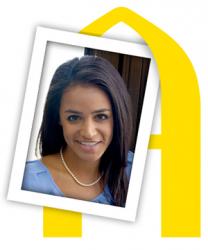 More Than I Imagined
Seniors reflect on accomplishments and look ahead
Katie Kot
Graduation year: 2014
Majors: Multimedia journalism and mass communication; communication studies
Post-grad plans: Public relations in New York or California (still interviewing)
Why did you choose to attend Augustana?
Ironically, I did not go to Augustana wanting to pursue a career in public relations; I wanted to enroll in the music program. But I eventually realized how much I enjoyed journalism and communications so I quit music. I needed a career that I would be working with people as crazy as I am.
Are you where you thought you'd be four years ago? 
Yes, my dad is a journalist in Chicago so I saw myself doing something along the same lines.
Who helped you get to where you are now?
Doug Tschopp and Jim Dyer are the reasons I am where I am today. Dyer was the major reason I not only looked into journalism, but also the reason I stuck with journalism and now am qualified for the public relations field. He was my favorite professor I have ever had in college not only because he is a brilliant professor who challenges his students every day, but also because he recognized my strengths in the field. I would not be pursuing a profession in public relations without the strong writing background he provided me during my junior year of college. He made me want to work hard in his class. Even this past summer working in a PR boutique, I was mainly dependent on my writing skills taught by Dyer in order to complete most daily tasks.
Additionally, Doug Tschopp was almost like my main "mentor" who I was blessed enough to look up to at the college level. Tschopp spoke to Dyer's journalism class the first week of Reporting 1 and quickly piqued my interest in public relations and portfolio building. I recall immediately running after Tschopp once my class ended to speak with him about my interest in the field. I remember thinking, "This is the guy to know." So my junior year I took his public relations class followed by a PR internship in which I dealt with the press in a major mass media market. Within the first week of school my senior year, I recall knocking on Tschopp's door again to ask "What's next?" Tschopp guided me through a challenging internship that would make me more marketable to employers and grew to be a fantastic role model for me in the public relations field. I cannot thank Dyer and Tschopp enough.
A peak experience?
My internship over the summer for my MJMC Senior Inquiry (SI) at the public relations boutique. This was the most challenging internship and academic experience of my life.
What did you learn about yourself in these past four years that surprised you? 
That I do not belong in a small town — so work hard to dream big.
How did you use your Augie Choice?
Over the summer for my SI MJMC internship because it was unpaid. 
What will you miss the most?
James Stratton and Dan Gregg, my fellow journalism majors.
Advice for the Class of 2018?
Do your own thing.
"Seldom when I guest speak in a class, do I have someone show up in my office minutes after the class is out. But you could tell that Katie 'got it' when I talked about developing a professional portfolio and how choosing co-curricular activities could directly affect her career. I was able to see her skills grow as she joined the ADs competition team and as she took my public relations course. Add on a rocking internship in Chicago and another in the EDGE Center and those experiences add up to a great future career in public relations for Katie."