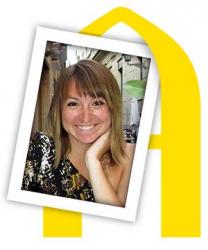 More Than I Imagined
Seniors reflect on accomplishments and look ahead
Katherine Kornhaus
Graduation year: 2014
Major: Spanish
Minor: Latin American studies
Activities: Varsity cross country and track & field, Spanish tutoring
Post-grad plans: Attend University of Wisconsin-Madison to obtain a master's in Spanish. Eventually I would like to obtain my Ph.D. and become a professor. I have found I also enjoy working in a municipal setting, so perhaps a future in politics or government as well.
Why did you choose to attend Augustana?
Being from Wisconsin, I had never even heard of the Quad Cities before, but chose to visit Augie on a cross country recruitment visit. Throughout my visit, I was so impressed with how connected all the students and faculty felt to Augustana, and I knew I wanted to feel that, too. I wanted to be part of a small Spanish program that I could be really involved in, so that attracted me to Augie as well.
Are you where you thought you'd be four years ago? 
No. I'm still majoring in Spanish, but I had no idea how far I would come in this field. I actually still can't believe that I make an impact on people's lives every day at my internship because of the fluency in Spanish I've obtained from studying at Augustana. I now have an incredible confidence and self-assurance that definitely was missing four years ago.
Who helped you get to where you are now?
Everyone who's been there with me these past four years, especially my coach Fred Whiteside, the entire Spanish department, the honors department and my teammates. They've helped me to discover what I want to do and my strengths by challenging me and pushing me to do my best — whether it's a tough workout or an innumerable amount of projects and conversations they've helped me through.
A peak experience? 
I spent half a year abroad in Sevilla, Spain, during my junior year, and this was absolutely a peak experience. I learned so much about myself and what I value. Most importantly, I improved my fluency in Spanish, which has helped me immensely in the job search process. I also ran my first marathon there and took a weekend trip to Africa, just to name a few highlights.
What did you learn about yourself in these past four years that surprised you? 
I've learned that hard work and dedication do not go unnoticed and that anything can be accomplished if you set your mind to it. Among other things, I've learned to get past my fear of public speaking, I've discovered how to use my strengths to the best of my ability, and I've found out what really matters to me. The whole Augie experience has been one of self-discovery.
How did you use your Augie Choice?
I used Augie Choice to help cover some of the expenses of studying abroad.
What will you miss the most?
More than anything I will miss being able to run with my teammates every single day. There is nothing like the bond of a group of people who support each other through very high and very low moments such as those we experience in summer training, a bad race or a lifetime PR at the conference meet. I might also miss agreeing to go on 10-mile runs with Fred (Whiteside) that actually turn out to be 15 miles, uphill and tempo pace for the last six.
Advice for the Class of 2018?
If you let yourself do what you want to do, instead of what you believe others may expect from you, you will discover what you're passionate about, and others will notice. These are the people who matter. Stick with people and interests that help you to grow and improve yourself, and you'll do great things in four years that you probably didn't even imagine doing before you stepped foot on campus.
"Katie has become a fluent and confident Spanish speaker and writer, proof that the combination of hard work and passion towards one's professional choices are key to success; she has both, and in large doses. With her preparation, I have no doubt she is ready to truly enjoy her graduate experience at the University of Wisconsin-Madison. Her attention to detail and clear awareness that any academic pursuit is the outcome of time, effort and thoroughness is a gift to any professor."