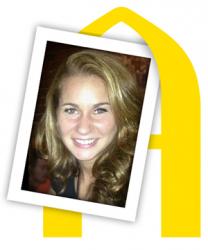 More Than I Imagined
Seniors reflect on accomplishments and look ahead
Julia Popp
Graduation year: 2014
Major: Biology
Minor: Spanish
Activities: Varsity track and field, TriBeta National Biological Honor Society, Delta Chi Theta sorority
Post-grad plans: I plan to get my Ph.D. in biomedical translational research.
Why did you choose to attend Augustana?
I chose to come to Augustana because of its prestigious academic reputation and welcoming campus. It was the first school I visited, and I knew I wanted to go to a small liberal arts college because I had always had small class sizes growing up. I did not find the same friendly atmosphere at the other schools I visited, and I knew I would feel at home at Augustana. Augustana is a perfect balance of the small liberal arts college everyone thinks it is and the large college you get with the athletic programs.
Are you where you thought you'd be four years ago?
I came in as a pre-vet student intending to do the 3-4 program and changed from pre-med to finally realizing that I wanted to do laboratory research. Each class I took at Augustana helped guide me to my ultimate career choice and dream. My experience has been possible due to the supportive faculty, encouraging teammates and friendships that I know will last a lifetime.
Who helped you get to where you are now?
A few people stand out in my Augustana experience. Firstly, professors Wegman-Geedy and Gehler helped to guide me in my career choice. They provided valuable career and graduate school advice. My parents also drove me to have big dreams and without them, attending Augustana would not have been possible.
A peak experience?
My peak experience at Augustana has got to be my Senior Inquiry. It was called "Cancer: Hijacked Cells in Action." I was one of 10 students allowed to propose and conduct my own research experiment to determine the effects of ginkgo biloba extract components on the proliferation, migration and adhesion of human epithelial cells. I was able to observe their transition to gain mesenchymal markers and relate it to angiogenesis (blood cell recruitment to tumors) and the inflammatory response in cancer.
What did you learn about yourself in these past four years that surprised you?
I learned that academics are an extremely important part of attending college, but also learning how to meet people and be yourself is the ultimate education that you can get. Track and field was the first team I had been on, even including high school, where my teammates and I encouraged, disciplined and supported each other through thick and thin.
How did you use your Augie Choice?
I used Augie Choice for living expenses in Rock Island during the time of my shadowing internship.
What will you miss the most?
I will miss being able to see everyone from my classes, house and team every day. Having my friends around me 24/7 is a part of college and one of the best parts. I am going to miss being able to drop in my professors unannounced just for a chat.
Advice for the Class of 2018?
Be yourself. This is one of the only chances you have to get past the high school awkwardness and make true friends who will be there the rest of your life.
"Inquisitive, enthusiastic, good-natured, critical, genuine, passionate...that's Julia. By taking advantage of many diverse opportunities on and off campus, Julia epitomizes the liberal arts. Through these experiences, she found her personal and professional passions evolve into something more exciting than she ever imagined. Julia is the complete package...demonstrating a level of curiosity that is not easily taught, but will be critical to her success as she continues to develop as a person and scholar."