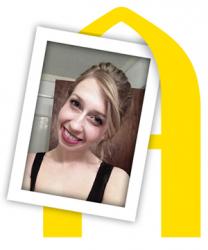 More Than I Imagined
Seniors reflect on accomplishments and look ahead
Jessie Allen
Graduation year: 2014
Majors: English, secondary education
Activities: Honor Council, Omicron Delta Kappa leadership honor society, Mortar Board, Habitat for Humanity, Peer Mentor, Quad City Animal Welfare Center
Post-grad plans: I am applying to urban and suburban schools around Chicago, but have also applied to schools in Honolulu, Hawaii! Eagerly awaiting responses...
Why did you choose to attend Augustana?
I chose Augie for several reasons. First, I was enamored with its superb education department and because I felt personally cared for by all of the professors that I met.
Are you where you thought you'd be four years ago? 
I am not where I thought I would be in four years. Career-wise, yes. I'm prepared to get a teaching job. However, I am more intelligent, more analytical and more confident than I ever believed possible.
Who helped you get to where you are now?
All of my professors, the guidance counselors, and the administration helped me excel. Specifically, Katie Hanson in the English and education departments went above and beyond her role as professor. I had a very difficult student-teaching placement, and she was never too busy to listen to me and give me advice. In addition, she initiated many conversations, even if it was only to make sure that I was having a good day.
A peak experience?
One of my peak experiences was when I studied abroad in Jamaica. This was a pilot trip, so all of us were an essential key in making the experience come together. I had the opportunity to teach at a boy's orphanage in Kingston. Not only is this a shining moment on my résumé, but it was my first teaching experience, and it undoubtedly changed my life and made me a more caring, compassionate individual. In addition to teaching, my friends, professors and I explored this gorgeous country, met and spent time with the locals, and absorbed the beautiful and unique culture of Jamaica. I know I will never have another experience like this.
What did you learn about yourself in these past four years that surprised you? 
Over the past four years, I've learned that I'm much more interested in other disciplines than I ever thought in high school. I took two years of French at Augie and realized that I loved it. I took five religion courses and almost majored in religion. I took a dinosaur class in the geology department and found myself doing outside research just because I was interested. The liberal arts education definitely motivates you to explore and try new things, and I was surprised by how much I loved that.
How did you use your Augie Choice?
I used my Augie choice to study abroad in Jamaica. I was in Jamaica for almost two weeks, stayed in an all-inclusive resort, traveled through the Blue Mountains, and lived in Kingston. With my Augie choice, the trip was extremely reasonable, even for a struggling college student.
What will you miss the most?
I will miss the community of my peers the most because when you join a club or group on such a small campus, the people who join with you have similar minds and hearts. All of us were people- and service-oriented. In addition, I will miss the friends that I've made here. I have confidence that we will always remain in each other's lives. But living two minutes away from all of my best friends is something that I will sorely miss.
Advice for the Class of 2018?
Don't fear the small campus — it's so diverse that you will fit into a million different groups immediately. Making friends at Augie is almost impossible not to do. Talk to your professors — this isn't high school where asking questions is lame. Ask them for help, ask to assist them on projects, ask for advice. Your professors are your greatest tool for success here. Try everything. Always wanted to dance? Join Martini Swingers or UNYK. Want to sing? Join choir. Want to join a fraternity or sorority? Rush and see what happens. Want to start a club? Do it! Someone told me on my first day of Augie that these four years would be the best I've had yet, and would fly by. I didn't realize how horribly correct they were. Drink in every moment and use these four years to create a genuine person that you can be proud of.
"Jessie's curiosity, perseverance and contagious love of life make her a joy to work with. She has been an inspiring and empathetic peer mentor to first-year students and made valuable contributions to the Augie community through her extensive volunteer work and leadership. She will be an outstanding language arts teacher — the kind of teacher her future students will cite as the one who inspired them to pursue their dreams. She will represent Augustana well."