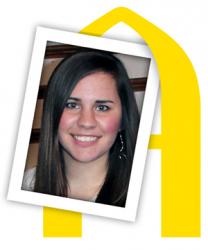 More Than I Imagined
Seniors reflect on accomplishments and look ahead
Jenna Orabutt
Graduation year: 2014
Major: Business administration-management
Minor: Women's and gender studies
Activities: Camp Kesem Augustana, Alpha Phi Omega (APO) service fraternity
Post-grad plans: I will leave in September on a missions trip called the World Race. It is a program that goes to 11 countries in 11 months and works with different ministries in the countries.
Why did you choose to attend Augustana?
I chose to go to Augustana for the small campus at first. I wanted a community-oriented campus, and once I stepped foot on Augie's campus, I knew I was going there. The campus is absolutely beautiful, and I liked how it was small enough but didn't feel like high school all over again. The professors and students were also very welcoming on my visit, and I could really see myself living there for the next four years.
Are you where you thought you'd be four years ago? 
Absolutely not. I have grown so much more than I ever thought possible in the last four years, and I attribute most of that to the opportunities presented to me. I have had the chance to experience many different clubs, classes and social experiences, as well as an excellent academic career. 
Who helped you get to where you are now?
There were not only one or two people who helped me to get where I am. I can honestly say it was a collective effort of every professor and faculty member I've come into contact with. The staff at Augustana does not stop at any length to help you grow as a person. I've also had incredible experiences with my peers through classes and clubs. 
A peak experience? 
My peak experience was starting a chapter of Camp Kesem. This was one of my best experiences because of the community it created. Not only does the organization help children whose parents are affected by cancer, but it created a community among students and faculty. There was not one instance where we asked faculty or administrators for help, and it was not provided. The students who are involved in Camp Kesem have become some of my best friends, and we're all such different people who probably would not have met if it were not for Camp Kesem. This organization gave us a common cause to work towards, while creating lasting friendships and community on campus.
What did you learn about yourself in these past four years that surprised you? 
One thing I learned about myself was how many interests I have. With the liberal arts education, I was able to take different courses in different areas, and I found that I had a passion for women's and gender studies, and was then able to minor in it. I was also able to try water polo, participate in band, volunteer through APO, make friendships through SAI (Sigma Alpha Iota music fraternity), tutor elementary school students through Wide Open Weekdays, and so much more. I gained a new perspective of myself and found myself as a well-rounded, independent individual.  
How did you use your Augie Choice?
I used Augie Choice to study abroad in Sydney, Australia. I had an internship at The Fundraising People, and it was an amazing experience. While in Australia, I was able to go to Cairns, Melbourne, and then New Zealand for spring break.
What will you miss the most?
Everything. I will miss the clubs and extra-curriculars. I will miss my professors, but most of all I will miss the community I've become a part of. It's such a nice feeling being able to walk around campus and see familiar faces. It's also nice to know that if you're having a rough time, you have friends and professors who genuinely care about you and want to help.
Advice for the Class of 2018?
Take advantage of every opportunity possible! If you have an interest, find a club that incorporates it. Augie doesn't have a club that has it? Then start one! Study abroad, get involved in the surrounding community, go to your professors' office hours and get to know them, try something new, but above all else, find something you're passionate about and stick with it.
"Jenna is an example of the quintessential liberal arts student. Not only has she excelled in the classroom, but has exerted the same effort in activities outside the classroom. Her dedication to these activities has made a significant contribution to the entire Augustana community. Her thirst for intellectual stimulation and dedication to servicing others is something all students should emulate."