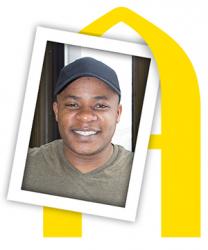 More Than I Imagined
Seniors reflect on accomplishments and look ahead
Jean (John) Bosco Munyengabe
Graduation year: 2014
Major: Biology-pre-medicine
Minor: Religion
Activities: ACHOO (Augustana Community Health Outreach Organization), JETS-Nicaragua (Joining Education Through Service)
Post-grad plans: I'm waiting to hear if I am accepted in the post-baccalaureate pre-health professional program at Southern Illinois University School of Medicine.
Why did you choose to attend Augustana?
I attended Black Hawk College for two years, and when I was looking into transferring to a four-year undergraduate school, Augustana stood out among other possible colleges. I was looking for a school near the Quad Cities that had a strong program to prepare me for medical school. Even more than that, I was looking for a small school where interaction with other students and professors would be much easier. Augustana had all these qualities.
Are you where you thought you'd be four years ago? 
I have made huge progress, but I still have a long way to go. This has been a great foundation for my prospective career in medicine.
Who helped you get to where you are now?
My mom has been very supportive, and she has encouraged me throughout my school years. Dr. Dara Wegman-Geedey has been so inspirational as well. I did multiple research experiences with Dr. Lori Scott, and she has helped me begin to see myself as a scientist.
A peak experience? 
I traveled to Nicaragua with other students for medical service learning. This became an experience that helped me to see the medical field from a different perspective. I also got to make new friends, something I usually find difficult.
What did you learn about yourself in these past four years that surprised you? 
I have learned that public speaking is not my thing because I tend to be very nervous.
How did you use your Augie Choice?
I participated in the JETS program for medical learning service.
What will you miss the most?
I will miss being taught by science professors Dr. Scott, Dr. Wegman-Geedey and Dr. Georgi.
Advice for the Class of 2018?
Study more, play less. Travel abroad for a new experience because you don't know where life might take you. You don't know what you are missing.
"John was a solid contributor during our summer medical clinics in Nicaragua: his work ethic and awareness of cultural nuances were invaluable. His behavior with patients and our Nicaraguan staff members served as a constant example to other students on how to be respectful yet persistent. John's reflective journal entries also showed that he was processing material at a deeper level than many other students — he wants a health care career because he loves biology but also for deeply altruistic reasons. I look forward to seeing his future accomplishments."