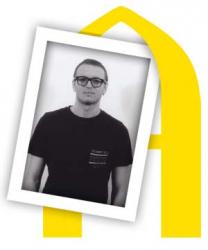 More Than I Imagined
Seniors reflect on accomplishments and look ahead
Jasen Hengst
Graduation year: 2014
Major: Graphic design
Activities: Varsity swimming, Web Author's Guild 
Post-grad plans:
Take a year hiatus to educate myself in areas I want to further develop, prepare for graduate school.
Pursue a master's of fine arts or master's in graphic design
Experience the "workforce," but first learn what that means
Eventually I want to teach in higher education. This will give me a chance to pursue three different outlets for artistic expression and creativity. One, to facilitate others' growth in creation and problem solving; two, allow my own time for personal projects; three, a professor's schedule might allow for freelance work on the side.
Why did you choose to attend Augustana?
I did an overnight, where I met with my potential swim coach, and was shown around campus by one of the art professors. The simple difference between Augustana and other schools that I visited: Augustana made me feel wanted, and welcomed. And so I went where I felt wanted.
Are you where you thought you'd be four years ago?
No, and you won't be either. College is the first big chance you get to live on your own, and figure out who you really are as a person. Your self-identity will develop, you'll learn what your values are, and on the flip side, the things you couldn't care less about. I didn't know what I wanted freshman year, but now I have a much better understanding of myself, and what I want to do. Don't fret, you will too.
Who helped you get to where you are now?
Kelvin Mason — the graphic design professor who was hired to start the major at Augustana in the '10-'11 school year. He provided me with a solid base in both theories and best practices, which has allowed me to develop myself to the point where I can do the little things and not have to think about them. I am so meticulous because of him.
Doug Tschopp — director of the EDGE (Entrepreneurial) Center. Where Kelvin gave me the groundwork, Doug gave me a chance to implement it. Doug tracked me down in the spring of my freshman year to come work in the EDGE Center, and I never left. He gave me the opportunity to do countless creative projects for businesses and not-for-profits over the course of two summers and three school years.
A peak experience?
I will ignore this question and answer a different one. Are you satisfied with your experience at Augustana? Why, yes I am. What I hope to remember about Augustana years down the road is that it was a generally positive experience. That's what I am thinking now as I reflect as a senior.
What did you learn about yourself in these past four years that surprised you?
That I am interested in more disciplines than just my major, like religion, computer science, creative writing, photography, psychology. I've had some "aha" moments where I connect some other studies with what I can implement in my designs — the benefits of receiving a liberal arts education. What is more surprising though is that I now love black coffee.
How did you use your Augie Choice?
I used my Augie Choice to help cover expenses while working on a self-created Senior Inquiry, which focused on all of my creative work completed out of the EDGE Center during the summer of 2013.
What will you miss the most?
I refuse to miss Augustana because I have done plenty in my time here and am excited to continue on. I am grateful for everything that I've gained as an undergraduate.
Advice for the Class of 2018?
Be open to wanting more than just what you think you want now. Experience anything that even remotely interests you, then you can decide later whether it was beneficial or a complete waste of time. Because truly, you're not going to really know what you enjoy until you do it. The next four years are a perfect time to explore who you think you are, and what you think you want.
"Graphic designers need portfolios to get jobs. Period. End of story. Jasen is one of the few students who was willing to put in the time to make that happen. During his 3-plus years in the EDGE Center, his growth as a designer has been huge (and so is his portfolio). I think his added experience in project management, client communication and strategic planning makes him that well-rounded person every organization is looking for."