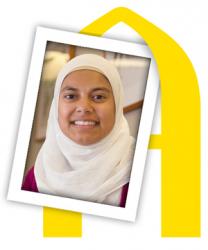 More Than I Imagined
Seniors reflect on accomplishments and look ahead
​Hiba Ansari
Graduation year: 2014
Major: Business administration-international business
Minor: Accounting
Activities: Muslim Student Association, Student Government Association, Reading/Writing Center, Chinese Club, Volunteer Income Tax Assistance, Interfaith Understanding, Mortar Board, Omicron Delta Kappa
Post-grad plans: Begin my business analyst position for a management consulting practice in Des Moines. In the future, I'd like to pursue an MBA and start my own business.
Why did you choose to attend Augustana?
My first visit was during the fall of 2009 (wow!), and I was instantly mesmerized by the scenic campus setting. The welcome and warmth that I felt on this campus also surpassed other colleges. Faculty and staff assured me that students were empowered at Augie to work magic beyond the classroom. This was the type of campus synergy I was seeking...plus, doesn't Founders Hall remind you of Hogwarts?
Are you where you thought you'd be four years ago?
No way. I came to Augie thinking I was going to go into neuroscience and religion. With the help of some early mentoring, I realized that I couldn't just connect the dots with courses to a major. I needed breathing room, growing room. Discovering the business major was so clarifying for me because this was the niche where I could sharpen both people and number skills to make an impact. Still, I continued to be curious and take classes in religion, geography, sociology and Chinese! Looking back, I'm so grateful that I exposed myself to so many other disciplines. Truly it has helped me become such a better global thinker, which is just what the business world needs.
Who helped you get to where you are now?
There are so many "campus champions" that cheered me on from start to finish. Mrs. Mamata Marmé was always there to motivate me and push me forward, even when I didn't want to budge. She encouraged my ideas, ambitions and helped me make my game plans. Her spirit of giving back to students is something I hope to embody in my future career. Johnna Adam and the CEC for all the excellent internship to career advice; it made the difference! Dr. Cyrus Zargar for providing much-needed guidance in the classroom and the community. I also have to mention Pastor Richard Priggie for nurturing me as a freshman and giving me the courage to move forward on campus.
A peak experience?
My study abroad trip on East Asia Term was the most adventurous and exhilarating experience I've had during my time at Augie. Discovering the local hum and jazzy city life made me realize how flexible one can become in unfamiliar environments. Especially navigating through China's robust recreational activities, I'll never forget lighting floating lanterns across the Yangtze River. Although it was a tiny flame, it had the power to illuminate new worlds for me. 我爱中国,将返回。
What did you learn about yourself in these past four years that surprised you?
Deadlines are no longer as scary as they seemed. You don't need a time turner to take two classes at the same time. As soon as I got comfortable with an activity or group, I kept trying something new. I don't know how I survived a day without Google calendars.
How did you use your Augie Choice?
I used Augie Choice to help cover food and travel costs while on East Asia Term.
What will you miss the most?
I'm certainly going to miss the energy that helped make this campus alive and thriving. The classes, conversations, friends coming together to cram for the next exam. Taking walks down the slough and making office visits to my professors. I'll miss all the friendly faces that made Augustana home for four years. I owe them much gratitude and thanks.
Advice for the Class of 2018?
Transform this campus to one you want to be a part of. Make it yours. Boredom will be nonexistent once you let yourself explore. There are allies everywhere on campus, so don't ever feel alone. Be curious with your classes, and there's no such thing as being "too" hardworking. Really. Lastly, Augustana will move you, stretch you, shape you... so stay spontaneous and enjoy it.
"Hiba is more than just an outstanding student. She has been an asset to the cultural life of our college. Whether in Washington, D.C., at a national interfaith conference or in the Muslim Students Association or in China during her term abroad or even in a study group for local young women that she manages, Hiba is a person whose passion for positive change affects everything she does. This passion constantly infuses her studies with direction and meaning. It energizes others. She is, in many ways, a person who finds it difficult not to lead."