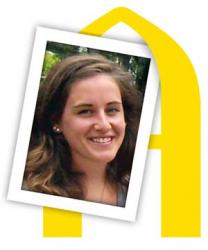 More Than I Imagined
Seniors reflect on accomplishments and look ahead
Helen Myers
Graduation year: 2014
Major: Anthropology 
Minors: Sociology, music
Activities: Varsity diving (eight-time CCIW champion), Augustana Symphony Orchestra, Interfaith Understanding, Micah House Intentional Living Community, Alpha Phi Omega service fraternity
Post-grad plans: Serve in a branch of AmeriCorps for a year before hopefully attending graduate school in Ireland to study peace relations or conflict resolution.
Why did you choose to attend Augustana?
Augustana allowed me to pursue everything that was important to me. I play violin, but I am also an athlete. I wanted to be somewhere where I could remain very involved in those activities while I was getting my education.
Are you where you thought you'd be four years ago? 
Oh gosh, no! I don't even have the same major that I had four years ago! I have learned so much from so many people, particularly academically and athletically. If you were to tell me four years ago that I was going to be graduating with an anthropology degree and have eight conference diving titles, I would have never believed you. But I am so happy with the version of myself that has been shaped by the experiences I have had and the people I've met at Augustana.
Who helped you get to where you are now?
So many people. Dr. Adam Kaul, my anthropology advisor, has been a great mentor in helping me decide how I should use my anthropology degree after graduation. Scott Johannsen and Aimee Moylan, my coaches, have supported everything I have done the past four years, and they have believed in me even when it was hard to believe in myself. Dave Wrath, the associate director of athletics, has also been such a pillar of support and has opened so many doors and opportunities I would otherwise not have. Dr. Daniel Culver, the Augustana Symphony Orchestra director, has motivated me to stay musically passionate through his excitement about orchestral performance. Laura Mahn, the volunteer coordinator for students, has been a great mentor and given me support and advice. The friends I met during my time at Augustana have also helped shape who I am today.
A peak experience?
There are two: (1) My experience studying abroad in Ireland. It really did change how I view the world, and you learn so much about the country you are in, your own country and yourself when you study abroad. (2) My involvement with the swimming and diving team. I wasn't even going to dive when I got to Augustana, but I am so glad I joined the team. 
What did you learn about yourself in these past four years that surprised you? 
I learned what I wanted to do with my life. Freshman year I drastically changed my major, and (to be honest) I was scared! I didn't even really know what anthropology was before Augustana, and after one anthropology class, I was deciding to study it! I know it was one of the best decisions I ever made.
How did you use your Augie Choice?
I used my Augie Choice to cover my flight to Ireland, and some other expenses while in Ireland.
What will you miss the most?
Being at a place where I have met some of my closest friends and teammates, and many brilliant, inspirational professors and mentors. I will always remember so many people that I have met at Augustana.
Advice for the Class of 2018?
Don't be afraid to try something you think you may not be good at! Trying these things is part of learning who you are, and Augie can be a great place for it!
"I've taught Helen in many classes over the past four years, everything from LSFY to a variety of courses in her anthropology major, and it has been fun to watch her academic abilities grow by leaps and bounds. I got to know her better outside of the classroom in the spring of 2013 when she accompanied me, 35 of her classmates and two other professors on Ireland Term. Helen emerged as a natural leader among her peers — well-liked, smart, responsible...and incredibly funny! During her time at Augustana, Helen has become a well-rounded person with strong convictions, great critical thinking skills and a fundamental integrity."