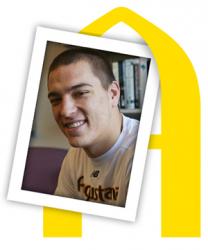 More Than I Imagined
Seniors reflect on accomplishments and look ahead
Erik Westerberg
Graduation year: 2014
Majors: Mathematics, math education
Activities: Varsity football (two-time captain) leading to Academic All-American recognition (2011, 2012, 2013)
Post-grad plans: To get hired as a math teacher and assistant football coach. After a few years of teaching, I will return to school to obtain a master's in education.
Why did you choose to attend Augustana?
The classroom sizes were small enough where I could build a relationship with professors; it was a safe distance away from my home in Elmhurst, Ill.; and because of the opportunity to be a part of Augustana's storied football program.
Are you where you thought you'd be four years ago? 
Four years ago, I didn't have an idea of what my major was going to be, I didn't know what campus organizations I was going to be involved in, nor did I realize that my face along with other Academic All-Americans were going to be on billboards around the state of Illinois. To say that I knew where I was going to end up four years ago would be an absolute lie. It has been quite a ride!
Who helped you get to where you are now?
My family, my outstanding coaches, my caring professors, and my goal-driven friends and classmates have all pushed me throughout my college career. They all have had expectations for me and have held me accountable to those expectations.
A peak experience? 
I had two peak experiences during my time at Augustana. My first peak experience was when 15 teammates and I held a "Be a Viking for a Day" event for students with special needs from the Blackhawk Area Education Center during the fall of my junior year. The other peak experience was when the football team traveled to France, and my best friend, Eric Chandler, and I led our team into a stadium of 8,000 people by carrying the U.S. flag before we played the French National Team.
What did you learn about yourself in these past four years that surprised you? 
I have learned that the quote "It's all about relationships" truly applies in life and certainly applies in college. Taking the time to talk, interact and learn about the lives of the people who go to school here and work here will be some of the most beneficial learning experiences you will have at Augustana. The people in this community will be your best friends after you graduate, potential co-workers and resources for you later in life.
How did you use your Augie Choice?
I used Augie Choice to travel to France with the football team to play the French National Team this past summer.
What will you miss the most?
I will miss waking up in the dorms, in a TLA and in a house with my best friends. We push and support each other day in and day out. These bonds that students build with one another here at Augustana are one of the major reasons why Augustana has so many successful students, student-athletes and graduates. It is all about the people here at Augie.
Advice for the Class of 2018?
Take advantage of as many off-campus opportunities as you can. I also recommend that you reach out and start conversations with as many people as possible. Begin building relationships with the great people that go to this school. In the end, you may find out that person you struck up a conversation with is now a CEO of a company, the general manager of a professional sports team, a surgeon, a lawyer or a schoolteacher who may be educating your son or daughter someday. As our athletic director always says, "It is all about relationships."
"One thread ties Erik's many accomplishments together: an exceptional, earnest work ethic and integrity. For some, the term 'scholar-athlete' refers to a student who manages to divide his time and accomplish two distinct goals. For Erik, success in the classroom and leadership on a team are the result of the single belief that growth comes from hard work, for which he accepts a level of responsibility bordering on a moral imperative. In short, I am proud to be part of the same profession as this future teacher."