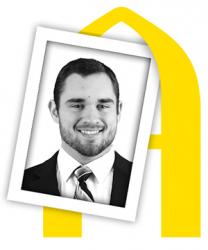 More Than I Imagined
Seniors reflect on accomplishments and look ahead
Eric Dratnol
Graduation year: 2014
Majors: Accounting, applied mathematics, business administration-management information systems
Activities: Varsity football (Academic All-American recognition)
Post-grad plans: Attend Wake Forest next year, then start working in public accounting
Why did you choose to attend Augustana?
A cousin of mine attended and graduated from Augie the year I graduated from high school. He really liked the school, and I had an opportunity to play for the football team, so I decided this was the place to go.
Are you where you thought you'd be four years ago? 
I wasn't positive what I wanted to do when I got here. I just knew it would be an area where I got to play with numbers. I started in the math and accounting programs in my first couple years, and from there, it was a natural development to where I am now.
Who helped you get to where you are now?
John Delaney has helped me so much as both a great professor in the classroom and as a source of advice outside the classroom. I know John is always willing to help when asked and has provided me good advice each time I've gone to him with questions.
A peak experience?
My peak experience was traveling to France as a member of the football team. The opportunity to spend a week abroad visiting all kinds of tourist areas with a large number of teammates was so much fun and an opportunity that I don't think I would've had at another school.
What did you learn about yourself in these past four years that surprised you? 
I learned how much work I am able to handle and what I need to do to thrive professionally. The work ethic I have learned through both the football team and the accounting department has given me confidence that when I step into the professional setting, I will be able to compare favorably against students from any school.
How did you use your Augie Choice?
I used my Augie Choice to lower the cost of the football team's trip to France so that I could afford to go. I doubt that I would've gone if not for the lowered cost.
What will you miss the most?
Living so close to all of my friends is going to be the thing that I really miss more than anything else.
Advice for the Class of 2018?
Don't listen if you're told to only take the minimum number of classes as a freshman. You can handle the gen eds (general education requirements), so take four classes at least once (preferably twice) freshman and sophomore year so that you have more flexibility as a junior and senior.
"Achieving Academic All-American honors as the starting center on the football team, while completing three majors and a near full-time job at Deere & Company, tells you a lot about Eric Dratnol. He is quietly confident and relentless. Eric parlayed his performance at Augustana into a full-ride scholarship at Wake Forest University — a huge accomplishment considering Wake Forest has a premier accounting graduate program. Am I surprised by Eric's success? No way! You work as hard as he does and the future is bright indeed."