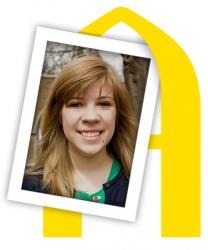 More Than I Imagined
Seniors reflect on accomplishments and look ahead
Elizabeth Jakaitis
Graduation year: 2014
Majors: Art history, English
Activities: Art History Club, Augustana Observer, Centre for Whistler Criticism
Post-grad plans: Pursue a career in art criticism
Why did you choose to attend Augustana?
I was ultimately convinced to attend Augustana because of the interest and involvement that professors showed before I was even accepted. Professors from multiple departments enthusiastically returned my emails, encouraging my interests and offering ideas on how to pursue and combine them. They made me feel excited about my education and certain that I would have guidance along the way.
Are you where you thought you'd be four years ago?
No, I'm not. My majors haven't changed, but my plans for how to use them have. Four years ago, I was under the impression that choosing a career was about picking a job from those listed as possibilities for your major, none of which I felt really passionate about. Somewhere along the way I stumbled upon art criticism — a field I had never considered before, but now it's something that I'm really excited to pursue.
Who helped you get to where you are now?
My art history professors, Dr. Goebel and Dr. Morse, have been a never-ending source of guidance and support over the past four years. They are both so knowledgeable in their fields and are incredibly generous with their time, guiding me through making the best decisions for all aspects of my future. This term Dr. Goebel gave me the opportunity to co-curate the Whistler and His Contexts exhibit in the art museum, and it has been such a rewarding culmination of my four years with the art history department.
A peak experience?
One of the experiences I value most was studying abroad in London for a term. It was incredible to take classes that taught us about the city we were living in and encouraged us to immerse ourselves in the culture, by visiting sites like the British Museum, the National Gallery, Hampton Court Palace, the BBC Television Centre and Shakespeare's Globe Theatre. Through all of these wonderful experiences I gained a greater sense of independence and made lasting friends and memories.
What did you learn about yourself in these past four years that surprised you?
I have gained more confidence and self-assurance over the past four years. All of the big decisions that come after graduation used to seem so daunting, but now that it's almost here, it's really exciting to plan what's going to come next.
How did you use your Augie Choice?
I used Augie Choice to study abroad at the University of Glasgow for a semester in the spring of 2013. Since my freshman year I have worked with the Augustana Centre for Whistler Criticism to create a digital archive of the criticism of Whistler and his art. At the University of Glasgow, I was given the opportunity to work with some of the original scrapbook archives to further this project. It was such a rewarding experience to see the original sources of the material I had been working with for over two years. Spending five months in Glasgow contributing to research that I was deeply interested in, attending classes at a renowned university and immersing myself in another culture was such an enriching and impactful experience.
What will you miss the most?
I am going to miss attending classes with great professors, like Dr. Crowe and Dr. Mahn, who covered more than just their subjects, and also took the time to share skills and ideas that I know will be important in my professional and personal life.
Advice for the Class of 2018?
Study abroad, definitely. It may sound cliché, but it really is life-changing, and it will be the most educational and exciting experience you'll have in college.
"Elizabeth's passionate art historical engagement is impressive and a genuine joy for her professors! She's been integral to the Centre for Whistler Criticism through her notable research here and extraordinary work with original archives at the University of Glasgow. Her art criticism Senior Inquiry will utilize her remarkable talents and training in both her majors. It is exciting how Whistler criticism also intersects with her career plans, furthered through co-curating our Whistler and His Contexts exhibition. It was also wonderful sharing faculty/student perspectives during London term through art historical opportunities abroad!"