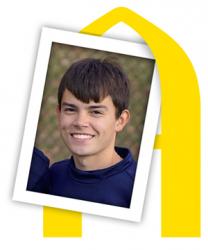 More Than I Imagined
Seniors reflect on accomplishments and look ahead
DJ Lawlor
Graduation year: 2014
Majors: Neuroscience, biology-pre-medicine
Minor: Biochemistry
Activities: Varsity soccer, Sports Medicine, Residential Life, Student Athletic Advisory Committee, Beta Beta Beta Biology Honor Society, Mortar Board National College Senior Honor Society, Omicron Delta Kappa National Leadership Honor Society
Post-grad plans: I plan to attend medical school.
Why did you choose to attend Augustana?
After visiting other colleges and universities, Augustana felt like it was more than just a college block — although in the winter, I frequently wished it was. I was amazed with the friendliness of the campus and could not imagine a better place to spend four years.
Are you where you thought you'd be four years ago? 
Not quite. While coming into college, I was set on my career path, but I never would have thought I would become a Community Advisor, develop the friendships I have or conduct genetic research on chicken retinas during my four years here.
Who helped you get to where you are now?
I could not have made it this far without the support from my family and friends and guidance from the Augustana faculty. Specifically in the biology department, Dr. Georgi has been helpful in the classroom as well as outside the classroom. He has pushed me to further apply myself and provided the opportunity to perform genetic research on chicken retinas.
A peak experience? 
During the summer leading into my sophomore year, I had the opportunity to play soccer internationally. The men's team traveled to Trinidad and Tobago, playing five games and experiencing another culture. Having never left the country before, this was certainly a once-in-a-lifetime opportunity.
What did you learn about yourself in these past four years that surprised you? 
I have learned that taking chances is a must in life. While some things may seem ridiculous, just give it a shot. If it does not work out, at least I tried it.
How did you use your Augie Choice?
My Augie Choice was used to fund my experience shadowing a general surgeon. During this internship, I scrubbed in for surgeries, observed from the operating table, and sat in on consultations/post-op visits. Because this experience was unpaid, I used the money to "pay" myself as if it was a regular job.
What will you miss the most?
Over the years, I have developed great friendships and will miss seeing my friends daily.
Advice for the Class of 2018?
Get involved in something you find interesting. With hundreds of sports, groups, clubs and activities on campus, find a few that you like. You will meet your closest friends and have a blast!
"DJ has shown a great enthusiasm for learning. He has done an outstanding job of taking advantage of opportunities in and out of the classroom. He has shown that he is a true leader by volunteering his time to teach his fellow Augustana students on topics relating to human anatomy. By teaching his peers, he will be better prepared for the rigors of medical school."