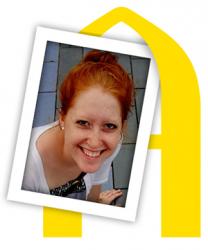 More Than I Imagined
Seniors reflect on accomplishments and look ahead
Diana Boudreau
Graduation year: 2014
Major: Geology
Minor: Biology
Activities: Udden Geology Club, Concert Band, Sigma Gamma Epsilon National Earth Science Fraternity, Harvest Bible Chapel Small Group, Beta Beta Beta National Biological Honor Society
Post-grad plans: A career in the National Park Service, Bureau of Land Management, or Forest Service protecting and preserving our most beautiful landscapes for future generations
Why did you choose to attend Augustana?
I was dazzled by the geology department. They had three unique professors who seemed excited about their students and boasted of such amazing field courses to places like Hawaii and Grand Canyon National Park, which I have since taken part in. The small campus and class size also appealed to me, guaranteeing that I would get one-on-one attention from professors in almost all of my classes. 
Are you where you thought you'd be four years ago?
In many ways I'm exactly where I thought I'd be, but the journey was greater than I had thought. I'm still a geology major with an interest in biology, but I've gained a greater appreciation for the arts and culture thanks to both the liberal arts requirements and the plethora of traveling opportunities. I have been privileged with the opportunity to travel to places like China, Japan, Taiwan, Hawaii and a handful of parks in the beautiful western United States. It's been a whirlwind adventure that places me back on the steps of Old Main wearing a cap and gown with a diploma in hand. 
Who helped you get to where you are now?
There have been so many people that have aided in my journey through my undergraduate career. First and foremost are my geology professors. Dr. Hammer, Dr. Wolf and Dr. Strasser really encouraged me to put forth my full potential in my coursework, fieldwork and internships. I am also indebted to Susan Wolf and Gail Parsons in the geosciences building who never ceased to amaze me with their love of the geology students and selfless desire to help with any situation! 
A peak experience?
It is really hard to pick only one peak experience from my time at Augie, but I would have to say that traveling for three months through Asia with 75 of my peers tops the charts. East Asia Term allowed me to flourish as a traveler, a geologist and as a person. I learned so much about the Asian culture and along the way discovered even more about myself. I'll cherish the story behind each photograph and the memories I jotted down in my journals for years to come.
What did you learn about yourself in these past four years that surprised you?
I was surprised by my ability to easily jump into unnerving situations like traveling abroad in a country where I don't speak the language or living in Chicago for an entire summer to be closer to my internship location. I would have never described myself as an outgoing person in high school, but Augustana gave me the opportunity to break out of my shell.
How did you use your Augie Choice?
I used my Augie Choice during the summer of my sophomore year to pay for housing and other necessities in Chicago as I completed my NSF-funded internship studying paleontology at the Field Museum of Natural History.
What will you miss the most?
I will miss the geosciences building I've come to call home, the geosciences professors, walks along the slough path in the fall, sharing a home with four of my closest friends, the traveling opportunities, and the ever present and supportive community of peers, professors and faculty. I've been extremely privileged during my four years at Augustana.
Advice for the Class of 2018?
Try new things and don't be afraid of failure. In my experiences, trying something and failing shows more gumption to future employers, grad schools and your professors than being reluctant to attempt anything at all. So step out on the edge and do it! 
"From her internship with the Field Museum to her term in East Asia to her numerous geology field trips, Diana has capitalized on opportunities to study outside the classroom. She is a first-rate student who challenges herself to master material and make connections between disciplines. She is adept at relating minute details of the science to the 'big picture.' Diana's Senior Inquiry, which focuses on bone histology of Cryolophosaurus ellioti, is fascinating! How many people can claim to understand firsthand the personal details of an individual Jurassic dinosaur?"