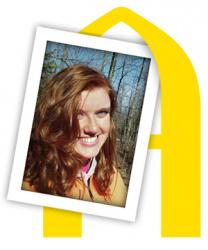 More Than I Imagined
Seniors reflect on accomplishments and look ahead
Danna Jensen
Graduation year: 2014
Majors: Geography, environmental studies
Minor: Communication studies
Activities: Varsity swimming, Honor Council, Chi Omega Gamma sorority, Harvest Bible Study, Concert Band, National Honor Society for Leadership and Success, Mortar Board and Order of Omega
Post-grad plans: Teach science (grades 7-12) for Teach for America in Mississippi
Why did you choose to attend Augustana?
To be honest, Augie was not my first choice until I walked onto campus for the first time. I felt like I was in the woods, especially when walking down the Slough Path. Also I liked the programs at Augie. I did not want to be a number in a classroom with a hundred or more students. I wanted to be a name, to make a difference and to make the most out of my time. Honestly the only school I visited that I thought would accomplish this was Augustana.
Are you where you thought you'd be four years ago?
I thought I would go home, pay off my loans and find a job at the local McDonald's. That is not the case today. I have applied to a Ph.D. program in Scotland, Teach for America, McHenry County Conservation District, and also some positions with the Department of the Interior (USFW). Flipping burgers is not in my future. I am confident in my education and experiences, and nothing will hold be back from my dreams!
Who helped you get to where you are now?
I am truly blessed to be graduating from Augie. First and foremost my family...they were supportive and encouraging. I think they were more excited about my experiences than I was. Also my professors, especially the geography department. They "molded" me into who I am as an academic and a person, and they taught me how to discover, ask questions and to think outside of the box. Lastly, the people at this school...friends, teammates, sorority sisters, classmates and staff made this journey fun and memorable.
A peak experience?
My senior year began with a dream come to life. I went with 80 students and professors to 20 different cities in Japan, Taiwan, Hong Kong SAR and China for three months and visited the Great Wall, Tiananmen Square and the Forbidden City; ate maggots (they were not that bad); went to McDonald's and KFC overseas; and experienced all sorts of adventures. This adventure over the pond is unlike any other trip or study abroad program at other colleges. Augustana provided a unique experience that opened my eyes to the world.
What did you learn about yourself in these past four years that surprised you?
After my first year, my parents said that Augie turned on a light in me. I learned how to challenge myself to understand foreign concepts so that now it's like second nature. I learned that I love to study freshwater mussels — strange I know. I love science and learning about what God created and the relationship we have with the home He gave us.
How did you use your Augie Choice?
The funding through Augie Choice made my dreams to go to Asia, China in particular, come true!
What will you miss the most?
I will miss the community at Augie. I will miss walking in the Quad, waving to my friends, on a daily basis. I will miss the geography department. They are my family here.
Advice for the Class of 2018?
Make the most of your experience because if you don't, you'll regret it. Augustana can be that gateway to open doors that you didn't even know were possible. For example, I took one class about freshwater mussels my sophomore year, and now that's what I want to study. That class changed my life and made my experience extraordinary at Augie. Your experience can be, too, if you give it all you've got!
"It has been an extreme pleasure to have Danna in the oboe studio at Augustana. Her dedication to not only her major but also her outside interests is an inspiration. Danna has taken great advantage of everything the liberal arts education has to offer from competing as a member of the swim team to participating in the Augustana Concert Band to studying abroad with the 2013 East Asia Term. Her infectious curiosity and easygoing nature will lead her to many more exciting adventures."